Nov
30
The Kult of Komikon
by Ramon De Veyra
The Philippine Star
November 30, 2008
"This year's Komikon may have been the best ever. It certainly seemed like it had the best attendance. People filled up the narrow aisles, jostling for space among the boxes and tables of cool swag."
For the full article, click here:
http://beta.philstar.com/Article.aspx?ArticleId=419837&publicationSubCategoryId=453
Or you can just buy today's issue of The Philippine Star. If it's still Sunday, it's available nationwide!
Yesterday was my Video Blogging Day, which I devoted mostly to video blogging. I began by doing my video on the bus trip on the way from San Pablo to the SM Mall of Asia in Manila. It's a bit disappointing that the blog conference itself was not well attended. I probably attribute that to us speakers as not being terribly attractive or pleasant to look at, considering that we came after a fashion show with a pack of really gorgeous women.
The place was PACKED when these girls came on. And why wouldn't it be? They're stunning! Beautiful! Graceful! So what did you expect when THESE guys came on next?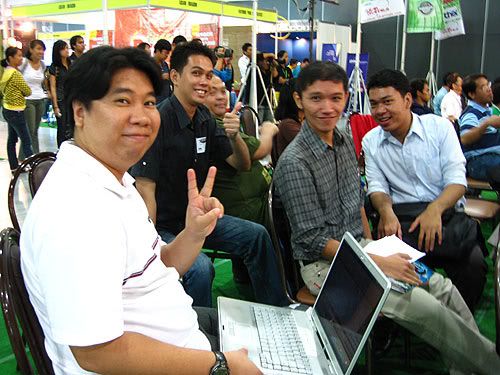 All of a sudden it was like Edsa during Holy Week! he.he. That's Azrael, Chris, Juned, Jonel and Edward. As for me, I'm in the video!

My Video Blogging Day!
http://www.youtube.com/watch?v=PobaFkM9BUMe
And speaking of these videos, sophie_dfuss at Twitter asked me:
"no offense but my bf asked me if you were using drugs when you did the video?"

Ha! ha! It seems like it, I guess. Other times people think I'm drunk. But to be completely honest, I drink only rarely. The most I can drink now is probably half a bottle of San Mig Light. And aside from a couple of Drammamine pills I took when I was 10 years old for the fun of it, I've never done any kind of drugs. So why the the crazy videos? One answer really… I'm just shameless.
Comments