Nov
23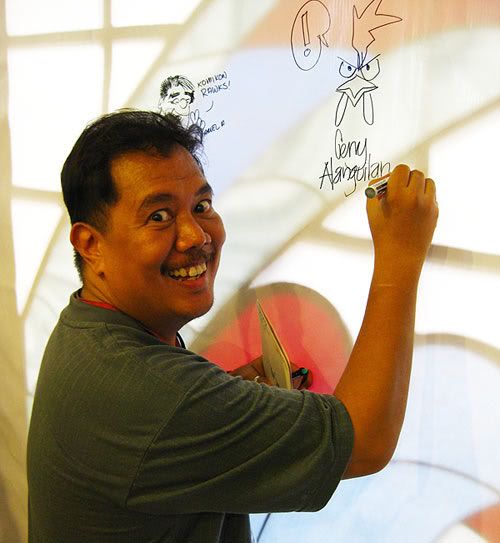 By 12 noon it was already quite difficult to go around. There were that many people. I don't have a headcount, but it's quite plain to anyone who was there last year that this year's crowd was just insane. I've had little opportunity to go around myself as I was almost completely tied to my table. We moved about 200 copies of Elmer #4, and perhaps 150 copies of both #2 and #3.
I was unfortunately unable to go and buy the indies as I did the past two years. I would have wanted to, but I am glad that enough people came to my table to buy Elmer that made my leaving for any extended period of time unlikely. I did manage to get the titles I was looking forward to, or more accurately, they managed to get to me.
I was looking forward to Gilbert Monsanto and Co.'s "Bayan Knights" for the unfettered superhero geekery. I was also looking forward to anything new that Josel Nicolas has because I believe him to be one of the most intelligent young comics creators today, and he's someone to watch out for. And yeah, he's got TWO titles! I can't wait to read them.
And quite unexpectedly and with much appreciation from me, Arnold Arre handed me a copy of his "Martial Law Babies". Arnold is incredible. He drops phone book sized graphic novels at a drop of the hat, seemingly effortless but always brilliant.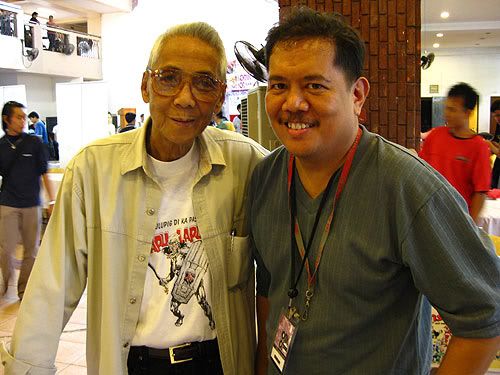 With veteran komiks illustrator Frank Redondo, brother of Nestor Redondo

Rico Rival

With Sir Hugo Yonzon and komiks illustrator Abe Ocampo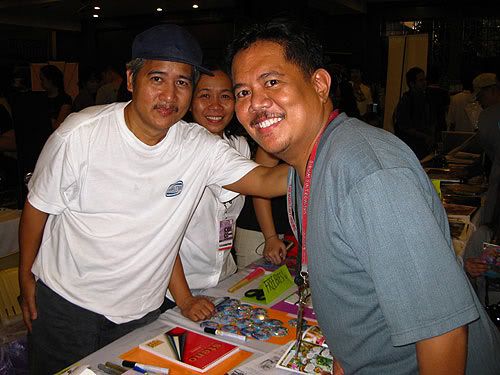 With Eisner-Award winning artist Lan Medina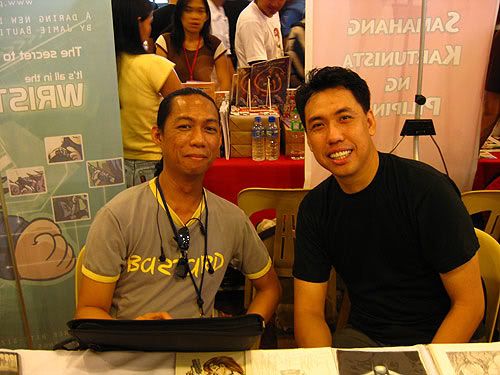 Edgar Tadeo and Jay Anacleto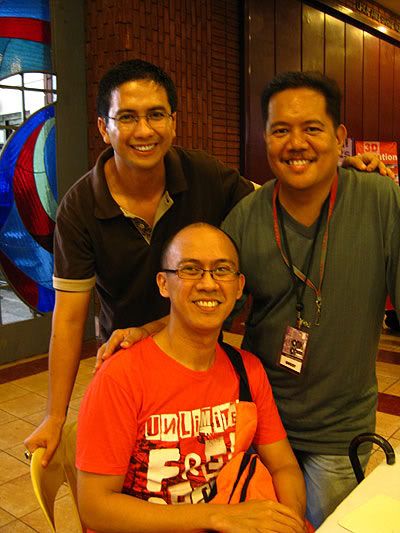 with Arlan Esmeña and Carlo Vergara (seated)
My friend Arlan came along to promote our "Where Bold Stars Go To Die" preview. I was very happy for Arlan, this being his first Komikon experience and his first comic book. It was clear he was nearly out of his mind with excitement, specially when he met one of his idols, Tony De Zuniga.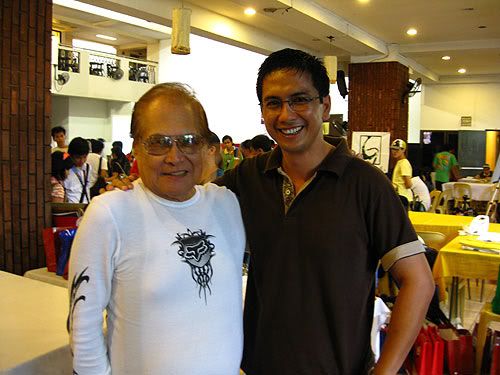 Tony De Zuniga is in town for a series of exhibits. More news on that later on.

Benjie Felipe
I finally met my editor in chief at the Buzz Magasin (where Timawa comes out), Benjie Felipe. I didn't realize he was a popular actor as well, who plays these really evil bad guys. I didn't know that, but my crew, specially Edjee Chozas and Zara Macandili knew that, and they were just freaking out. I thanked Benjie for having comics in The Buzz Magasin. It's good to know that he loves comics!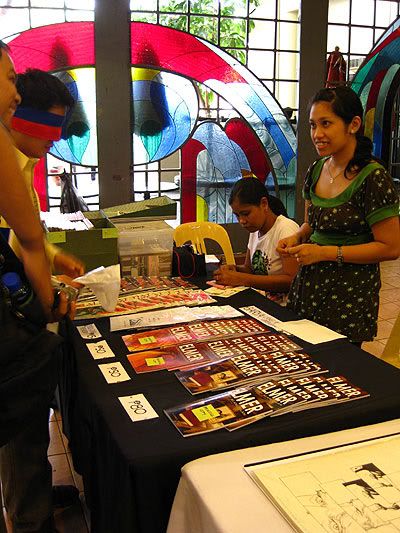 Zara Macandili, Edjee Chozas and "Manila Man" from Bayan Knights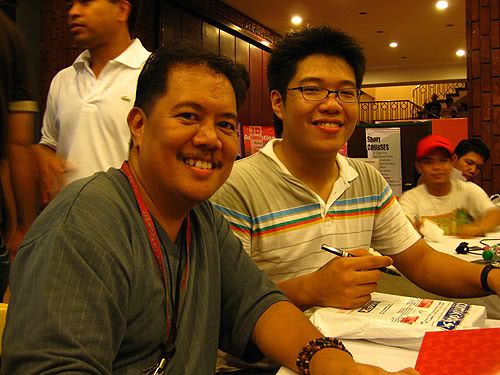 Leinil Francis Yu hanging out at my table.
More photos at my Multiply site:
http://alanguilan.multiply.com/photos/album/32/KOMIKON_2008
There were a few recurring questions thrown my way throughout the day, and the most common being:
1. Do you still have copies of ELMER #1? The answer is no. But the good news is, I just heard that Druid's Keep in Magallanes and Comic Quest may still have copies. Hang on until later this week as the stocks of #1, as CQ tells me, will be moved to the Megamall branch shortly.
Of course, I had been distributing ELMER online freely through my site, and just the other day, I seeded ELMER #1 as a torrent file. It's all completely free. When I'm asked if I still have #1, and I say no, but say it can be downloaded, the surprising discovery I have found with every person who asked is that they prefer the print version and asked to be updated if copies of #1 are either found or reprinted. Or better yet, a compilation be made.
2. Do you still have copies of WASTED? One of the more surprising things that happened was one guy came up to me to thank me for creating Wasted. That was just so awesome. As much as I tried to put Wasted behind me before (I no longer do), I always appreciate it when something I've done has affected people in a good way.
Of course, Wasted has also been freely available online here. And when I tell people that it can be read online, most of the answers are the same: "I'll wait for the print version." and ask me when Wasted will be reprinted. I can say for certain now that Wasted will be reprinted for release next year. Not early next year, but later next year, probably in time for Komikon 2009.
So what is going on here? I thought the online thing was the next big thing. Here I am bending over backwards, inspite of my initial hesitation to distribute my work digitally, to have Wasted available fully online, to offer ELMER #1 for free online because people have been insisting that online reading is the way to go and paper stuff is on the way out. Well, from where I'm standing that doesn't seem to be the case. This is not opinion, but cold hard feedback from people who actually read these things. So print it is!
A print compilation of ELMER, a well as a new edition of WASTED will be coming your way next year!
ELMER #4 is now available at COMIC ODYSSEY (or at least soon will be). I'll be delivering copies to Druid's Keep and Comicquest later this week.
Remember, if you've gotten a bad copy of ELMER #4 (I've heard reports of a few having errors in printing), email me at gerryalanguilan at yahoo dot com, and we'll get you sorted out. In a good way.
More coverage:
AZRAEL COLADILLA's Awesomely Prodigious Komikon Photo Coverage 1
AZRAEL COLADILLA's Awesomely Prodigious Komikon Photo Coverage 2
Comments