Feb
10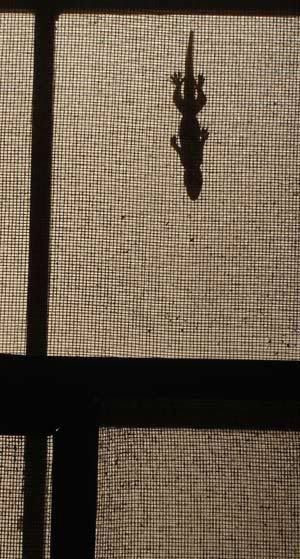 "Butiki" as we know them. Domestic lizards? Household geckos? Every single Philippine home has at least a few of them. I saw this butiki on our kitchen window and was so amused at its diving position that I had to take a picture. I like the fact that we have them because they eat mosquitoes and flies. Once in a while they would try to murder me, but for the most part they're pretty harmless.
Further into the countryside, larger lizards become more common. Not exactly as harmless as butiki, the tuko (took'-kko) has been known to attach themselves to people and won't let go. And they make these really strange sounds, which sounds like their name. I went into seclusion with my wife and dog last year into our small family country rest house without electricity, phones, radios or anything of the sort, so I can work on Elmer. One night, a tuko suddenly announced its presence in the house. And it sounded like it was top of our heads. Since we didn't have electricity, and I was a little addle brained to bring a flashlight, I couldn't see the thing. If we didn't have a mosquito net, we wouldn't have been able to sleep a wink. The following day it turns out it WAS literally on top of our heads, hiding behind the tapestry above the bed.
+++
I'm back in school tomorrow (or is it later today?). In a manner of speaking. I'm heading back to my old college, the University of Santo Tomas in Manila, where I took up and finished an Architecture degree.
An art org invited me to be a speaker for one of their activities, where I'll be talking about comics. I haven't fully decided what exactly about comics I'll be talking about but I don't even want to think about it. I suppose I'll talk about my experiences, but I don't want to plan it too much, and just let be sponteneous.
This is actually only the second time I'm agreeing to a talk like this, because I always thought I'm not much of a public speaker. I really don't feel comfortable speaking in front of crowds. I'd much rather write and draw. But in the last couple of weeks, specially after turning 39 and my experience at the Rodcon forum, I'm becoming more open to it. Whatever happens, happens I guess.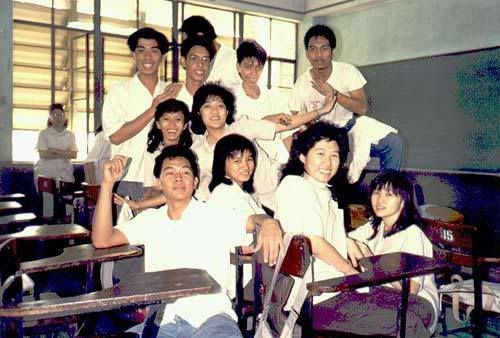 I can't believe it's already 22 years since this picture was taken. Can you guess where I am in there? That's in one of our classrooms at the CAFA Department of the University of Santo Tomas. I don't think CAFA (College of Architecture and Fine Arts) exist anymore after having been split into two separate departments.
I don't remember this picture being taken, but there are many things about college I do remember. 1985… I was heavily into Bruce Springsteen's Born in the USA, The WHO, ZZ Top, and a bunch of British New Wave music.
I was really attracted to this girl who didn't like me back, a pattern that would be repeated many times in college, but looking back, I guess that's OK.
This was about the time of Secret Wars II, The Trial of Magneto in Uncanny X-men, the Nightcrawler mini series by Dave Cockrum, The Punisher by Steven Grant, Mike Zeck and John Beatty, and X-Men Alpha Flight with Chris Claremont and Paul Smith. I was about to send my first submission to Marvel Comics. It was a great time. It's a time I look back on with great fondness.
Comments