Nov
6
This is artwork by Arlan Esmeña for "Where Bold Stars Go To Die". Arlan was hospitalized for a few days and was unable to draw for quite a while back in October so I was unsure whether this title will be released in time for Komikon. But he's working overtime now just to get it finished, and I'm really hoping he does. It would be great to have him with me at my booth. This is his first comic book, and really happy and proud of what he's done so far.
Where Bold Stars Go To Die
created by Gerry Alanguilan and Arlan Esmeña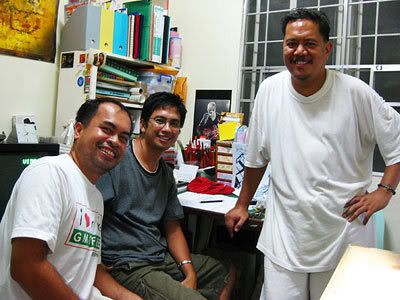 Arlan (second from left) came to visit earlier tonight to work on the pages here in the house. I'd like to describe how we go about creating this comic book. This is a story that I wrote way back around 2000 or so. For various reasons it just never got done with the artists I initially tried to do it with. I'm happy to say that Arlan is doing a great job with it.
I do all the layouts on 8.5X11″ paper, blocking out all the panels and the general figures very roughly. Arlan would then take those layouts and then use them as a guide to draw the pages.
Johnny (extreme left) also came for a visit. He watched me draw Elmer and got a full preview of the pages I've done so far. He liked only one panel. Harsh, Johnny! he.he.
And now for something completely different…
Now I know Daniel Craig is hot right now, what with the new James Bond movie being a huge hit and all. I think he's an awesome Bond, but something has always bothered me about him. He looks like Mr. Roper from Three's Company. I mean, check it out!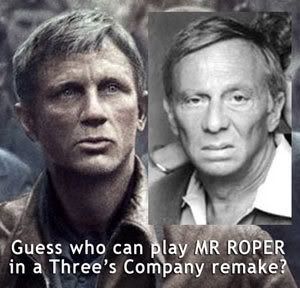 Eh? EH?
Comments