Sep
13
I've had quite a peculiar experience over at my parents house a week or so ago. Rummaging through my dad's library, I saw a stack of old comics. Now I would be sure if they were mine, but they weren't. They belong to my brother in law. My brother must have brought them there for some reason.
Now this particular stack of comics is unique. The moment I saw them, my eyes popped and you can ask Ilyn if you like she was there to see it, but there I was excitedly giggling and whisper-screaming as I looked over each one.

It was a stack of comics from the 70′s. Marvel and DC comics that had been reprinted by National Book Store which sold for P1.75 each. You guys in my age group, you would remember those P1.75 comics, dontcha?!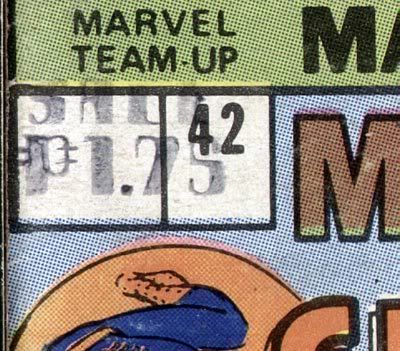 When I was a kid, we would all go to Manila as a family in our car once or twice a month. Each time I had around P10 to P20 in allowance. I would spend nearly all of that in those P1.75 comics. I collected X-Men, The Hulk, Spiderman, Plop!, House of Secrets, Phantom Stranger, Sgt. Rock, The Losers, OMAC, Action Comics, Adventure Comics, Brave and the Bold, Detective, Marvel Two-In One, Marvel Team-Up, Fantastic Four, Superman, Justice League, Legion of Superheroes, etc.
Anyway, when we moved to Manila many years later and I went to San Beda for High School, I gave away my old comics to my friends, and those that remained got packed up somewhere. I forgot all about these things, until I became a comic book fan again around 1985 when I read X-Men: The Dark Phoenix Saga.
I scrambled to find those old comics. I was able to find a few battered old issues, but the bulk of that collection was gone. Who knew those things would be so valuable to me in the years that followed? Valuable not in the financial sense, of course. I wished I could get all those comics back, but they are pretty much gone.
So when I found this stack of same old comics in my dad's library, I nearly went out of my mind. I saw comics I never saw since the 70′s and memories came crashing into me in waves one by one every time I saw a cover and turned a page. A lot of the images, drawings, facial expressions, and actions, are all so maddeningly familiar. It was so strange. It was like a door to a forgotten part of my brain was suddenly opened again and all this information came rushing back. I was like a kid again, feeling the same things I felt when I first saw them.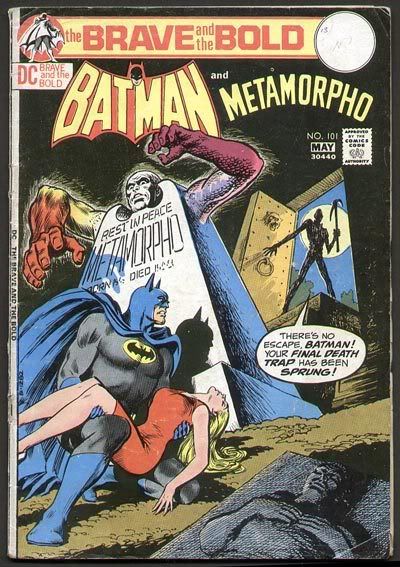 This particular issue of the Brave and the Bold was the one that elicited the most intense reaction from me. I remember having this comic book, and I remember this cover well. Actually, I just half remember it. The tombstone Metamorpho and the guy with the axe in the doorway, I remember very very well. But Batman? I don't remember him at all. Which is strange.
Inside the comic book are these awesome Jim Aparo drawings, but all these Batman scenes are all so unfamiliar to me. It's like I've never seen them before.
And yet, as soon as Metamorpho enters the scene, I remember every single thing. I remember him being tortured here: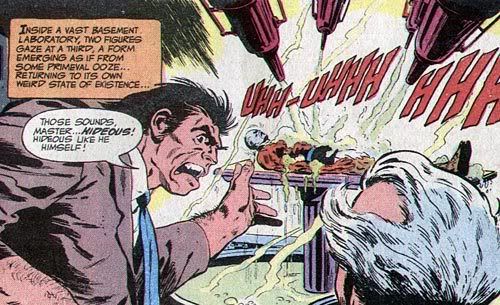 I remember him trying to get up there and his weird/funny expression there.
I remember his weird punch there…

And oh man, I remember his hand turning to putty there and his other hand morphing into a cup to catch it. I remember doing that with a pestle in one hand, and trying desperately to morph my hand into a putty into it.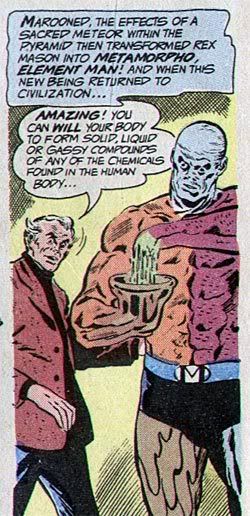 I remember his arms turning to steel and crashing the door and kissing the girl. Back then I thought it was so gross. Monster kissing pretty girl! But I loved it!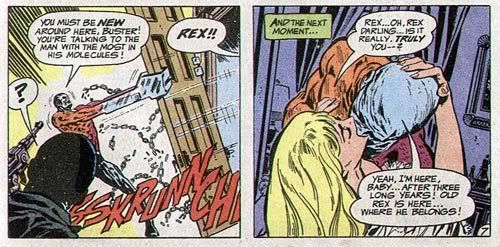 But a page later, I don't remember this Batman watching a boxing match. The images are unfamiliar to me. There are plenty of other Batman scenes which I simply don't remember.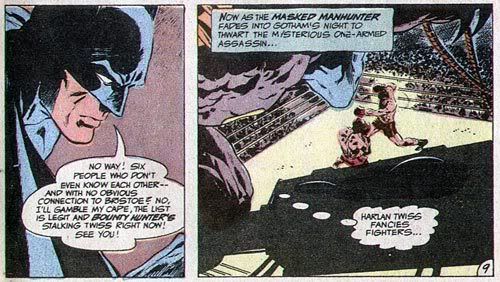 So what is this? Monsters cool, superheroes not? What does it mean? When Metamorpho comes back a few pages later, I remember him turning into a huge blob there. That image is seared into my memory. I thought it was almost as awesome as the revelation that Wolverine's claws came from his hands and not from his gloves (in another P1.75 comic book, X-Men 98, I think).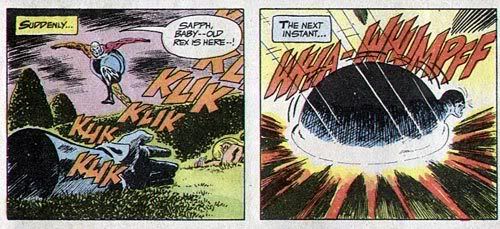 Why do I remember Metamorpho from this comic book and not Batman? It's really strange how the mind works, no? And how selective our memory can be. Perhaps I remember Metamorpho more because I probably think he was cool to be able to change his form at will, and change them into funny, unusual shapes. Plus he gets to kiss a pretty girl! That's so wickedly gross!
If I grew up with Lastik-Man, I would probably be having that same sensation with him.
But these old 70′s comics are an indelible part of my childhood, and I can't help but think that they play a huge part in my being I'm a comic book creator now. I've slowly started re-collecting these old comics that I've lost. The more I re-read them, the more I realize how much I love the 70′s era in comics. Granted that there's hardly anything there that can stand toe to toe with 80′s giants like Watchmen or Dark Knight or Maus, but I love the 70′s more out of pure nostalgia, and because I think they're just a whole lot of fun.
Plus,you got these really awesome artists like Jim Aparo, who was at his absolute peak during this time. There was also Barry Smith (without the Windsor yet) on Conan, John Byrne on X-Men, P. Craig Russel on War of the Worlds, Jack Kirby at his grotesque best on Omac, Losers, Captain America, and New Gods, Curt Swan on Superman, and of course, Nestor Redondo, Alfredo Alcala, Alex Niño and all those terrific Filipino artists on the DC books.
Whenever it's a rainy gloomy day, it's become sort of a habit to get lie in bed and read old comics. More often than not, I'd turn to a 70′s comic book and I would just have a great time.
Comments