Jul
30
1986 seems like such a long time ago, and when I think about it, I never realized how dangerous it really was, doing what we were doing. We just stood up for what believed and had fun doing it. In the year before the regime of Marcos ended, our house, situated along a road that was right next to Malacañang, was one of the rare few that were yellow. We placed yellow banners on our house, with wise-ass comments about Marcos' kidney. Everyday the PSG would pass by the house in their car, slow down, and then move on. To be yellow, in that place, and in that time, was insanity. But we did it anyway. Later, we would hear rumors that all of us who were yellow were going to be rounded up for whatever reason.
Cory was a name that gave us hope. Hope that things will get better, and hope for a new beginning. It was something we held on to fiercely.
When the 1986 revolution happened, my brother went off to volunteer as a guide for an American journalist, as they went around Manila covering what was going on. I remained near our house to monitor what was going on in Malacañang. Me and my friend Carlo were taking pictures of the tanks when a PSG came out, cocked his rifle at us and wanted to confiscate our camera. he was obviously quite nervous and jittery. We managed to convince him to take the film instead. "Mangyayari din ang gulong gusto ninyo!" was all that he would say. We thought he was just being dramatic.
And then it happened. We heard Marcos was fleeing and we rushed to Malacañang. Shooting started, and fearing for our lives, we hid in a small foyer of a gate of a big house along General Solano St. In that small foyer was me, my mom, my friend Heidi, Time journalist Sandra Burton, and a Japanese video cameraman. As the shooting went on, and came nearer, we feared it would be the end. We were trapped there and everyone else was ducking for cover. The shooting stopped, and then it was all over.
The following day the sun shined a different hue of yellow, and it was magnificent.
22 years later, Cory Aquino's grandson Jiggy Cruz got in touch with me via email to ask if I could contribute to a Ninoy Aquino tribute book. How could I say no? A lot of artists contributed artwork to the book including Whilce Portacio, Leinil Francis Yu, Carlo Pagulayan, Andrew Drilon, Harvey Tolibao, Stephen Segovia, Jason Paz, Noah Salonga and many more.
The other day we were all invited to a dinner thanking us for contribution to the book. To be honest, I'm the one who is thanking Jiggy because it's such an honor to be asked to participate, and ultimately, it's my small way of showing my appreciation to Ninoy, and to Cory for changing all our lives.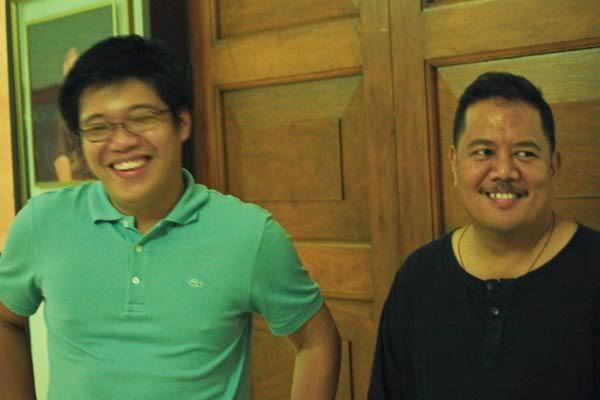 Leinil Francis Yu and Me.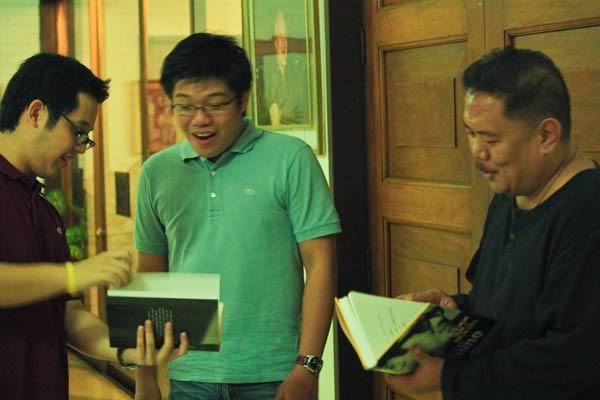 Jiggy Cruz, Leinil and Me.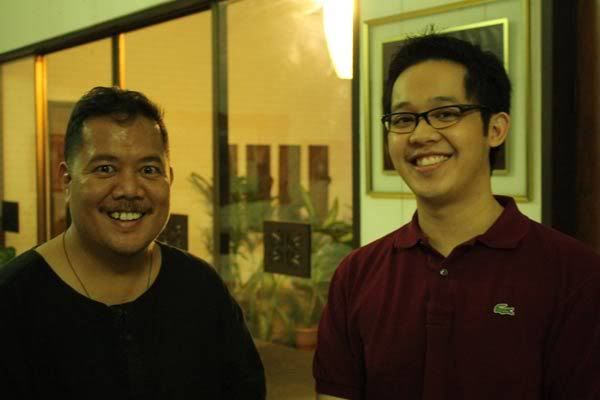 Me and Jiggy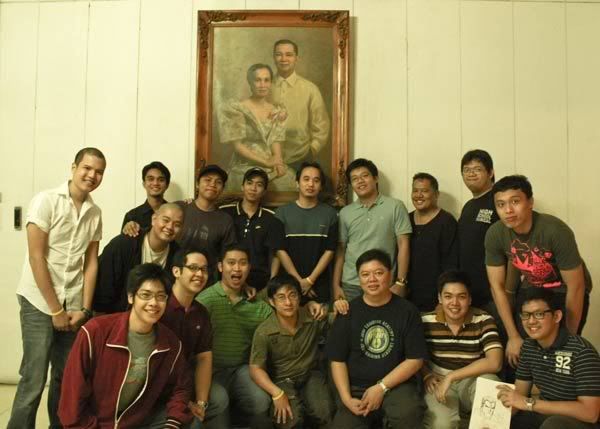 All the guys… and Fernando Amorsolo.
All photos courtesy of Carlo Pagulayan. More photos at Carlo's Multiply site.
Comments