Jul
19
For the first part of this article, click below:
LAKAN: "Kings and Queens"
http://gerry.alanguilan.com/archives/550
I have to admit that I was kind of shocked when I was told that we were going to redo everything. The characters will stay the same, but the story will be rewritten and we would have to go and draw the new story, scrapping all that we had illustrated up to that time.
It kind of pissed me off because I really worked my ass off to do the 7 pages I had already drawn. I'm sure Oliver and John and the others had already drawn their fair share of the pages as well. I felt really bad about it because all that time I was really proud of what I had done and I was excited at the thought that they would see print.
I don't remember working at all on Lakan for all of 1993. I remember working on the new pages sometime in 1994. One particular page I remember drawing while the 1994 Miss Universe was on. By this time I was already working on Wasted, and very soon it would come out in Comics 101. Read about Comics 101 here.
Little did I know that our writers were already talking with Budjette Tan about having Lakan appearing in Comics 101 as a preview. By this time, a lot of new artists joined the stable of the Lakan group including Red Bellosillo and Arnold Arre. I don't remember meeting Arnold during this time, but I did see quite a bit of his work that he left with the writers, which I saw at one of our meetings at Chris Bernardo's house. I heard of other artists joining, but I never really met them. I did hear that someone really terrific joined to do our covers.
When Comics 101 came out on August 1994, it's back cover was a full color illustration of Lakan, created by Red Bellosillo.
On the inside was a 4 page black and white preview, also by Red. This is the first page of the preview: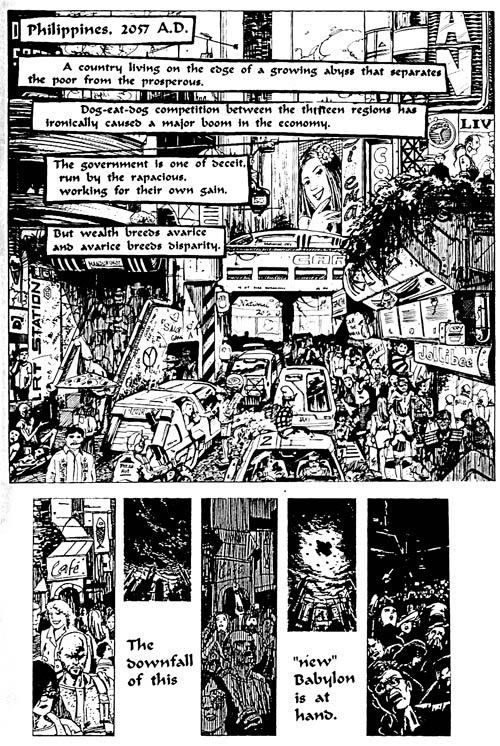 Lakan came out here, credited to a "Creative Underground". It was actually the first time I learned what our group was really called. Bolstered by this preview, I worked on my new pages with renewed enthusiasm. I had actually done a cover for Lakan in the middle of all this, but I think they went with another artist. All in all, I drew around 10 new pages, but for the life of me, I really don't remember what any of them look like. I remember thinking that I liked the look of my original 7 pages better. In some strange way, the enthusiasm I had for Lakan in the beginning wasn't the same the second time around. But I was still very much invested and very much happy to be involved with the group.
When I received the script earlier, Lakan was now being called Lakan: Bloodshed and Tears. A title which I thought was appropriate, figuratively and literally. Literally because I really shed blood at some point while illustrating this comic book, and I did it intentionally. I pricked myself on the finger to make myself bleed, and I mixed the blood in with the ink I used to draw the pages. Gruesome, I know, but it was my little way of leaving part of my physical self with the art that I was creating.
I was asked to letter the first issue, and I did so on tracing paper. I wasn't sure how it would be transferred to the art during printing, but I was assured by Alamat's production people that it was all right. So I did letter all the pages to the first issue, using various "C" Speedball points and technical pens. I'm not sure if I worked on lettering the second issue as well.
Time passed and I got myself involved in inking professionally for US comics, beginning with Entity Comics, then later with Image Comics. In July 1996, the same time I finished Wasted, P-Noise #2 was released. It contained a full color preview of upcoming Alamat titles, including LAKAN. The art to the cover was ultra realistic, and I assumed that this was the kick ass artist they had been talking about, but I don't remember who it was.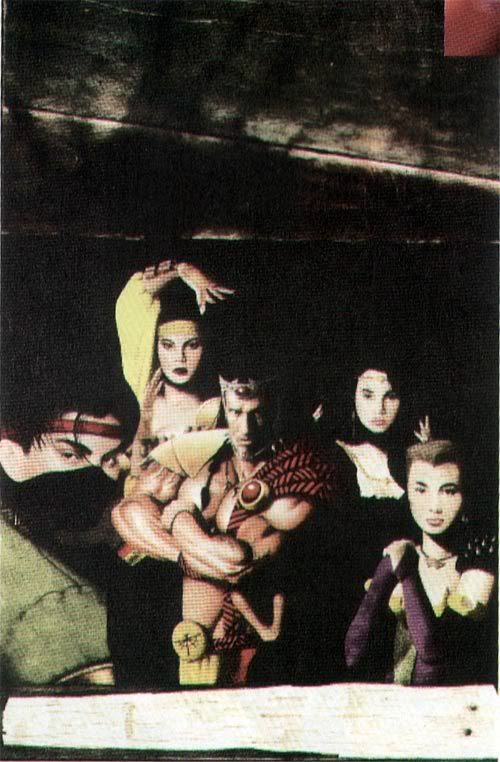 The preview came with some text:
LAKAN: BLOODSHED AND TEARS
An Enemy of Unspeakable Evil.
Agimats of Unimaginable Power.
Warriors Torn by Fear and Hate.
An Ancient Promise That Cannot Be Broken.
A three issue mini series. Featuring black and white artwork, full color covers and pin-ups by some of the best local artists including Wetworks, Grifter and Hazard inker, Gerry Alanguilan! Issue #2 includes a fully painted pin-up gallery and a few surprises!
B/W. 32 Pages. 3 Issues.
Aside from the Gary Estrada looking character, I remember being very excited. LAKAN was coming out at last! I knew that all the artwork for all three issues had been finished, and that the first issue was also completely lettered. I had the impression that the release was very imminent.
And then nothing happened.
What happened next is mired by confusing, conflicting stories, made worse by certain events within Alamat that affected not only LAKAN but a lot of other things. It's a time in Alamat's history that none of us look back with pleasure. It resulted in the artwork for Lakan disappearing, at least that's what I heard. Then I would hear other people say that the artwork is in fact not lost and it's with someone. Right now I absolutely have NO IDEA where the artwork is. At the time I was just so busy with my job that I wasn't able to really focus on this problem.
Not much has happened Lakan-wise ever since then. I still hold out hope that this thing could still come out. I think all that needs is for lines of communications to be opened and I hope that these posts could help get things moving.
Comments