Jul
16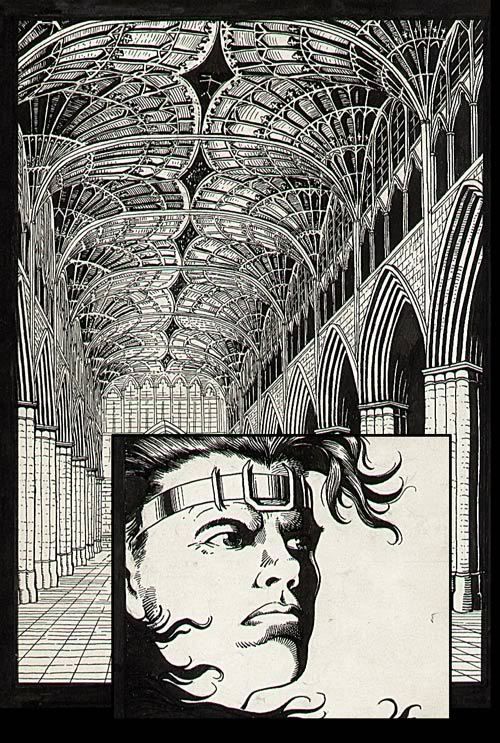 Writing the story behind the great unpublished LAKAN comic book, the one that would have been the first but ended up never have been at all, I realized that it's going to take much longer than just one post. So the next couple of entries to this blog will be devoted to writing about LAKAN, and what went on, as best as I know it. I'm sure that the other guys involved would chime in to add, expand or refute what I would write. I welcome it, because in any story, there are a lot of point of views.
Towards the end of 1991, Whilce Portacio went to Manila for a signing tour of Filbar's. I met him on the Robinson's Galleria branch of Filbar's, and showed him my portfolio. I had already been sending submissions to Marvel, DC and a few other publishers on an off and on basis, still convinced that I'd be an architect. Upon learning Whilce was Filipino, I decided to pursue comics more seriously. It was on that day in on the fourth floor of Robinson's while I was supervising the construction of a restaurant on the same floor, did I chance upon Whilce.
After going through my portfolio, he pointed me towards the owner of Filbar's, Filemon Barbasa, who in turn pointed me towards Rody Mercado (more known as JR Mercado), who was an editor for Mass Media Publishing. Apparently, a group was being formed to create a comic book, supervised by Whilce, and it seems I was being asked to join.
A meeting was going to be held at Mister Donut in Greenhills and I was invited to participate. Back then I was kind of full of myself, thinking I was this really great artist. It was easy to delude myself into thinking that way because I had no friends who were drawing comics like me, even as a hobby. In college, it was only me who was doing it, so I wasn't exposed to any other artist who could otherwise critique my work, inspire me and fire up the competitive spirit in me.
So I walked into the meeting and kinda cockily plopped my work on the table and I prepared to see everyone blown away. The people there seemed to like my work… seemed to… and I noticed this guy, who was just sitting there silently, technical pens tucked neatly in his shirt pocket. I asked to see his work, and when he handed it to me and I saw his art, it was like my world fell apart. It was kind of unfair really, socking me with the work of Nick Manabat right off the bat. It's like beating a puppy with a baseball bat. I almost quit right there. Nick's work was incredible. And that's an understatement. It was one of the most humbling experiences in my life. It's something I've never forgotten, and it's something that continues knock about in my mind. And I think that's a good thing. Someone is ALWAYS better than you. So don't sweat it, and just always do your best. That's a lesson I still follow today.
In that meeting I would meet what would become the core group of LAKAN. The name of the group isn't really Lakan. I don't think the name even had a name. And back then "Lakan" wasn't the title of the comic book. It was "KINGS AND QUEENS", and I thought… I really didn't like that title. I really didn't.
Our writers, as it turned out, were IAN ORENDAIN and CHRIS BERNARDO. The artists included ZACH YONZON, MARVIN QUIEN, NICK MANABAT, OLIVER PULUMBARIT, and JOHN TOLEDO. We all could contribute to the story, and I believe it was the concept and the story that were being hammered out in the meeting. I just kept quiet, still shaking in shock at Nick Manabat's art assault. Nick Manabat's dad Mang Alex was also there, along with of course, Rody Mercado (who was editor) and Whilce Portacio. I don't remember if anyone else was there. Everything was in a kind of haze. Ian was talking… Whilce was trying to bring focus to our efforts… me looking at Nick and thought vaguely how he looked quite a bit like that actor Jeff Fahey… Nick's killer illustrations swimming in my mind.
That night I decided that instead of being depressed, I would just let myself be inspired. Almost overnight my artwork transformed. I was fired up with a competitive spirit that I've never really felt before. They were all remarkable artists. John was terrific, so was Oliver, so was Marvin Quien. I don't remember seeing artwork from Zach though, and come to think of it, he was probably more of a writer than an artist in the group. I was probably the weakest artist there. Nearly everyday I strove to improve my work. Following the advice of Whilce I began using crowquills and it made a dramatic effect on my drawings.
The next time I attended the meeting, armed with new illustrations, my work seemed to impress Rody Mercado enough for him to hire me to work on UZI Magazine, a publication that Mass Media was introducing at the time. UZI was a weekly newspaper, with a large comics section. Not only did the debut issue have several pages of comic strips, it also had a page devoted to a continuing serial. Three of us in LAKAN worked in rotation on that comics page. Marvin Quien did a story, Nick Manabat did "ALAS" with his father, and I worked on Rody's story "Dracula's Wives".
On the comic strip pages would be future Alamat people like Budjette Tan and Bow Guererro, but I wouldn't meet them until much later.
Working on UZI also led me to working for TERROR KOMIKS, which was being published by Mass Media. My very first story, written by Joseph Balboa, was actually the first to be published even before Dracula's Wives.
Meanwhile, I believe Rody Mercado bowed out of further participation in "Kings and Queens" and with his departure, we started calling the comic book LAKAN. We would meet on an almost weekly basis, I believe, throughout 1992. Sometimes we met at Rody's house, back when he was still in the group, sometimes we met at Nick's house in Quezon City, but most often we met at Chris Berardo's house which was near BONI, I think. We would spend the time furthering the concept and the story while the artists came up with characters and designs.
We had agreed that each member would contribute a character which would form the Lakan superhero team. I don't know if it was agreed upon or what, I don't remember if it ever discussed, but Lakan had a decidedly Filipino flavor, specially in terms of design and setting. I don't remember if that was intentional.
I contributed a character called KATUTUBO, which was an Apolaki Warrior, very much like another character I would later create, TIMAWA. Katutubo was one of the very first Apolaki Warriors, a group of warriors that had superhuman powers, unlike all other Apolaki warriors that followed, who were all normal mortal men (and women). Katutubo had the power to absorb the tectonic forces of the planet and use it to create earthquakes and emit powerful force bolts. He was also immortal.
Oliver contributed an interesting character called IRA BRIZNA (which was really, just a very cool name), Ian contributed BOLO. There were characters named MUSANG and KRISALIS, and some more, but I don't remember their names and who created them.
I remember creating a gag character called "The Laughing Madman of Matimyas" a big bald guy with a protruding jaw with a large protruding tooth. He would creep in my Lakan sketches and he became kind of a mascot.
In the story that was being written, a design for "The Hive" was needed. The Hive was the headquarters of the bad guys and it was supposed to be very big, and very spectacular. I volunteered to create the design, and over a week or so, I worked on it on a 20″x30″ tracing paper, treating it like an architectural project. The base design was the the gothic church of San Sebastian in Manila, and in fact, the church itself was part of the Hive. On the church and around it, I erected this mile high structure that stood on the skyline of Manila like a gigantic erection.
As soon as the story and character designs were worked out, work on the comic book art began. I began drawing them on December 1992, a year after we began meeting, and I finished 7 pages in that month. Slow, I know, but I really wanted to make it good, and I really wanted to show that I deserved to be part of this talented group.
This is what I came up with: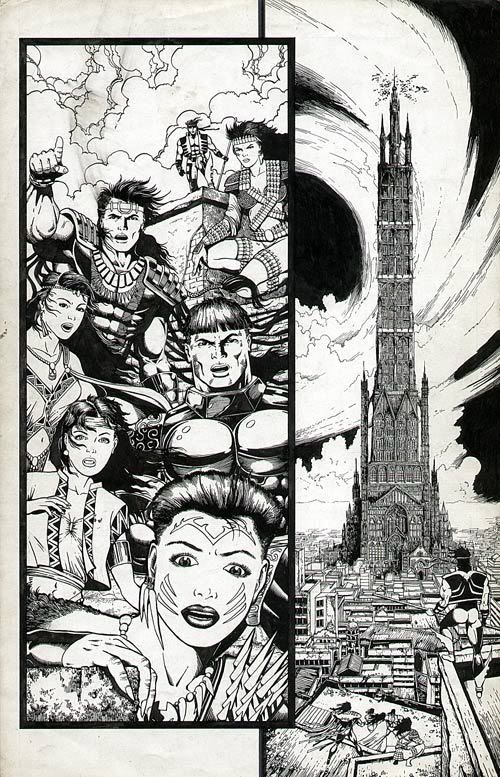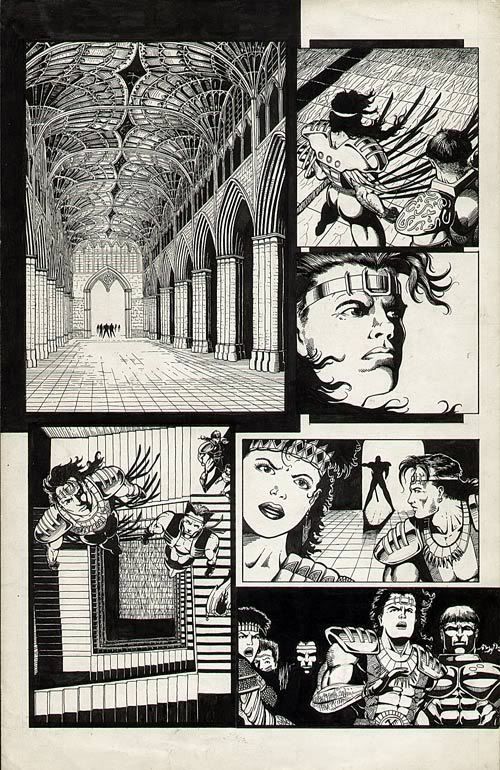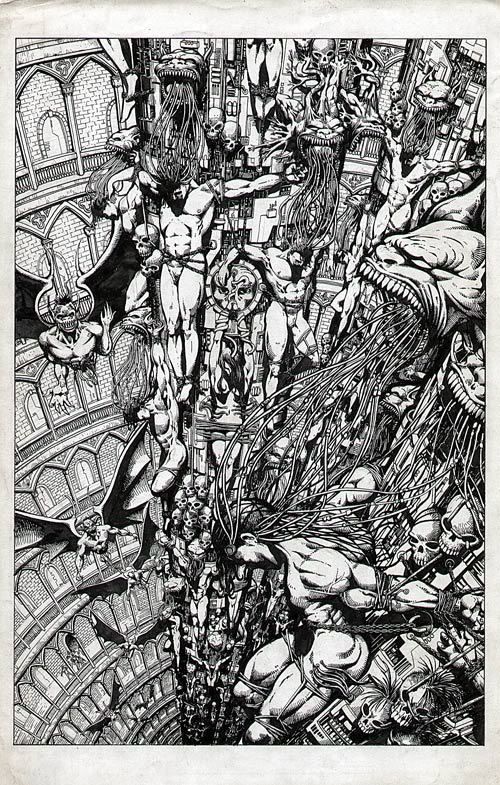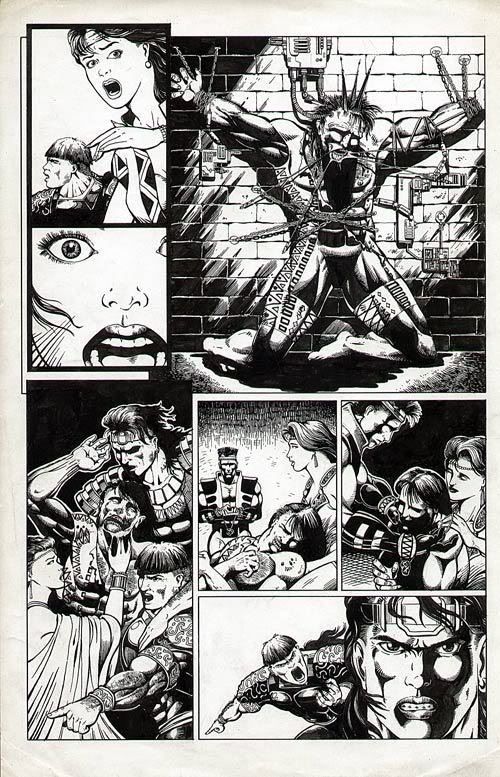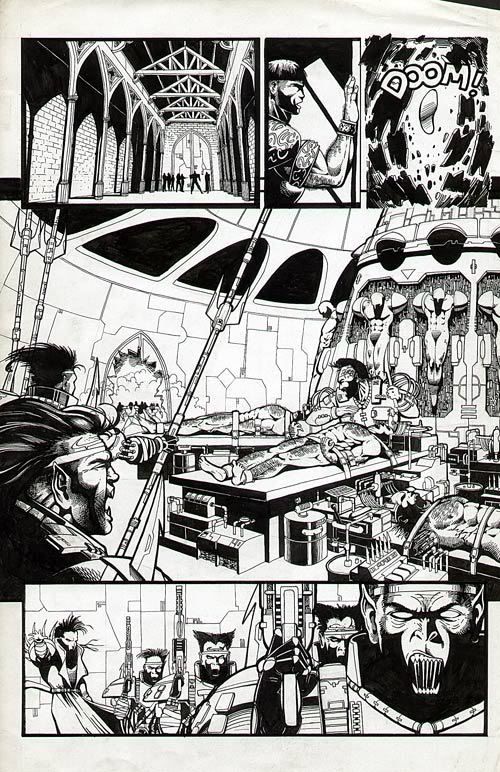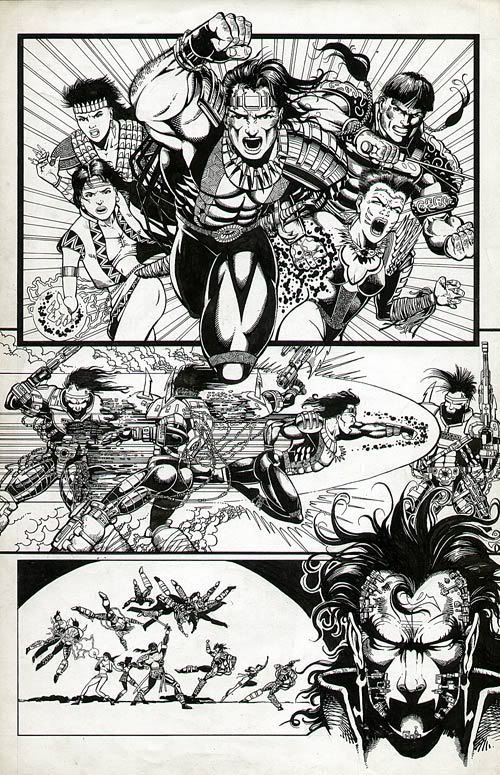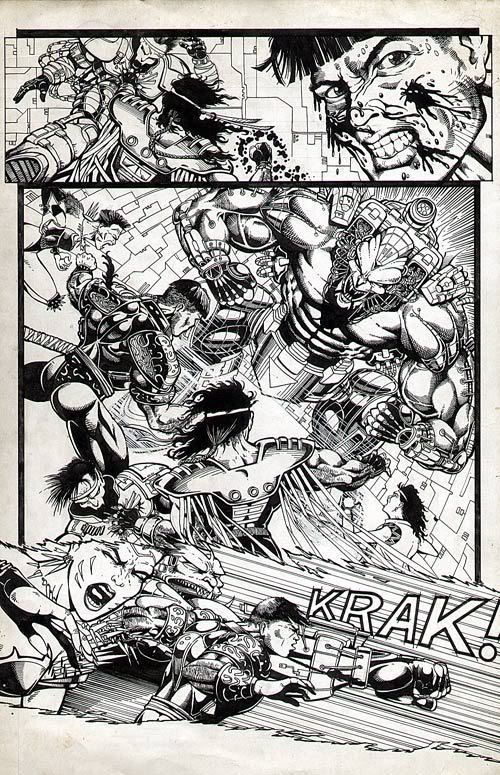 I was really happy at what I had done at the time. I couldn't wait to see these pages in print because it would have been something I would be really proud of.
Then I got a bit of bad news. The writers called and said that our story was being scrapped and that we would be starting over.
It meant another series of meetings, and another set of drawings.
(To be continued…)
Comments