Jun
29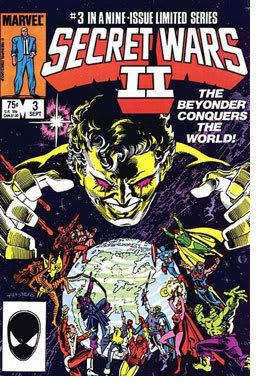 I'm actually quite surprised this compilation is coming out, having read a lot of bad reviews of the series overall throughout the years. It was by no means an earth shatteringly good series, and the easily impressed teenager that I was when I bought it wasn't that impressed either. But there were some really memorable moments in it that for some reason stick to me even today.
A standard compilation would have been plausible.
But a hard cover OMNIBUS? Wow, a hard cover omnibus.
It's already up for pre-order at Amazon.com:
Product Description
He rescued the Hulk and destroyed the New Mutants, he wrestled the Thing and made a deal with Mephisto, he created Kurse and Thundersword and a tower of gold! Doctor Strange tried to teach him; Dazzler tried to romance him! The Avengers wanted to recruit him, Daredevil to sue him, and Puma and Deadpool just wanted him dead! Hero, villain, force of nature and deus ex machina all in one: the Beyonder! For good or ill, he was one of the most powerful agents of change in the eighties, and now you can see all of his work all at once!
Collects Secret Wars II #1-9; New Mutants #30 and #36-37; Captain America #308; Uncanny X-Men #196 and #202-203; Iron Man #197; Fantastic Four #282, #285, #288 and #316-319; Web of Spider-Man #6; Amazing Spider-Man #268 and #273-274; Daredevil #223; Incredible Hulk #312; Avengers #260-261and #265-266; Dazzler #40; Alpha Flight #28; Thing #30; Doctor Strange #74; Cloak and Dagger #4; Power Pack #18; Thor #363; Power Man and Iron Fist #121; Peter Parker, Spectacular Spider-Man #111; Defenders #152; Deadpool Team-Up #1; and Quasar #8.
Product Details
* Hardcover: 1168 pages
* Publisher: Marvel Comics (December 3, 2008)
I actually want to get it. Specially since the crossover issues are included as well. The series itself was, like I said, wasn't that impressive, but there were a couple of issues that have sort of endeared themselves to me. Like the issue where the Beyonder fell in with the mob and he slowly worked up the ranks. It was a surprisingly involving story with characters that really came alive for me. It felt like reading a mini epic that carried with it the weight of the passage of time.
The next issue, where Beyonder tries to win the love of Dazzler, with disastrous results, is another memorable issue, and gave a young teener like me some pointers on the peculiarities of love.
I bought the complete Secret Wars II set when it first came out, but I sold them with most of my collection in 1993 when I ran into some urgent financial troubles. I've since bought my favorite issues again from Mark Navarro a few years ago. Thanks man!
The rest of the series went from all right, to tedious, to OK. But some of the cross over issues were pretty good. These are what I remember:
Daredevil: Beyonder gives Matt Murdock sight in a David Mazzucchelli drawn issue. Watching Matt see and sunset and breaking down was particularly emotionally effective.
HULK: Bill Mantlo comes up with a really emotionally involving flashback to the childhood of Bruce Banner.
Fantastic Four: John Byrne, in one of his best stories, tells the tale of a young kid who sets himself on fire trying to emulate the Human Torch.
New Mutants: Beyonder kills all the New Mutants. My favorite Chris Claremont written story after Dark Phoenix. The kids' deaths were terribly convincing, and you really felt they were never coming back. I felt awful for a long time after reading it.
I can't believe I'm saving up some money right now. I'd love to have this in my collection. Again.
Comments