Jun
2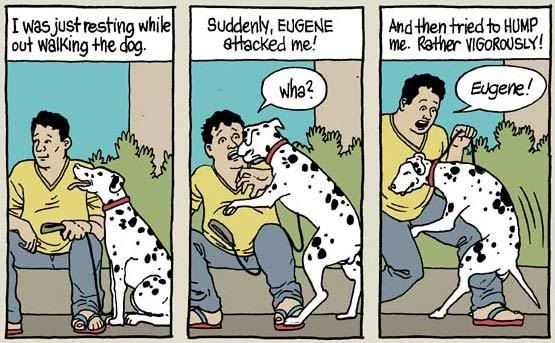 It's a been a year, almost to the day, that my dog Eugene, died. I didn't talk about it on this blog because I find it uncomfortable to talk about very personal things here. Much of that personal stuff I keep offline and between family and close friends. But I couldn't help express that grief somehow, and I expressed it through that where I could express it best: comics.
At the time I had been keeping a daily online comic strip depicting true and ordinary things that preoccupy me during the day. Many of those strips had Eugene in it. All of those strips can still be accessed at Webcomicsnation.com, but I've recently decided to reformat and re-organize my online strips into subjects right here in my site.
Subjects I went into include cellphones, sleep paralysis, PLDT woes, birds and chickens, dreams, friendships and so on. Click below for for Eugene's online comics.

EUGENE
http://alanguilan.com/sanpablo/online/eugene.html
I'll be uploading more of my online strips soon.
************************
I am participating in a comics anthology called "Liquid City", collecting the comics work of several South East Asian comics creators, to be published by Image Comics in the fall. Having experienced no such thing as a "fall" here in the Philippines, I had no idea what that meant until I learned it's actually anytime between September to December in the US.
I'm pretty excited about it as I'll be in the company of some really awesome artists and I'm scratching my head just what the hell I'm doing there, you know? They've got LAT in there, for goodness sake.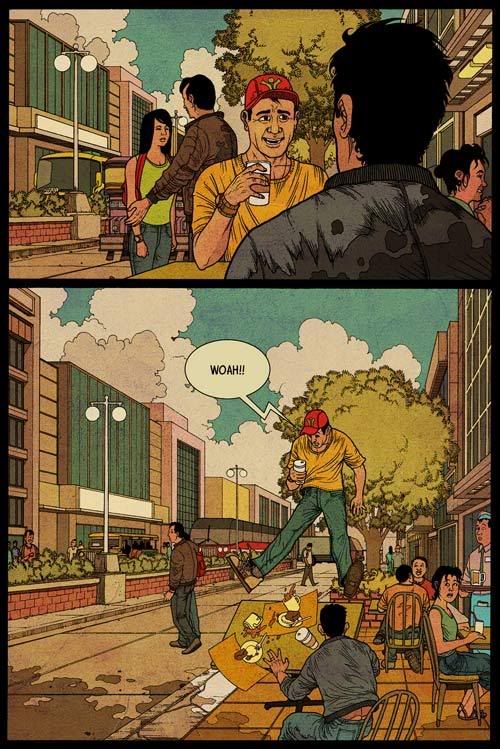 That USED to be page 1 of what I was planning to contribute. It would just be a visual story, no dialogue involved, where this guy drinks this coffee and he takes off into the sky, and proceeds to fly erratically through the city causing all kinds of confusion, pratfalls, and all sorts of hijinks. He then runs out of steam and falls with a huge crash back on his chair and says "Great Coffee!"
Now as people started turning in their stuff for the anthology, the more I felt ashamed and embarrassed by the work that I've done. I've had to re-assess and consider what I should do. I decided to scrap the story altogether and just come up with a new one. It's that new story that I submitted at my deadline yesterday. I worked really hard on it, and I still don't know if it's on par with what the others did, but at least it's better than what I did before.
More information about the anthology here:

http://sonnyliew.livejournal.com/9183.html
After all that you'd think I'd take a break, but although I want to, it's time to continue work on Timawa #9! With crazy deadline a few days from now. Allright!
Comments