Mar
18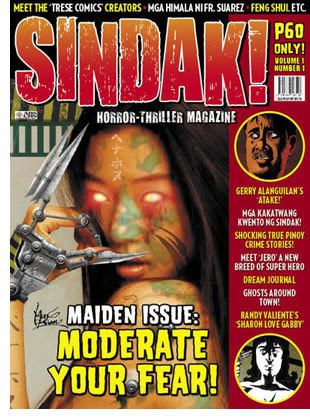 Sindak! is a new large format (9″x12″) comics magazine published by ABS-CBN. ABS-CBN Publishing is also the publisher of The Buzz Magasin where my Timawa comes out. I'm a contributor to the first issue of Sindak!, contributing two full color pages. I was supposed to do the cover, but when editor KC Cordero put together a mock cover for proposal, I thought the artwork for the mock cover looked great, and that it was good enough for the cover for the comics-magazine's debut issue.
I'm very excited about this magazine because there's a lot of really talented people involved, it's large format, in Tagalog, and in full color. The first issue drops end of March and will be available all over the Philippines.
The comics-magazine will be published once every two months. Hopefully, I'll be able to do six pages for each issue beginning with the #2.
Kudos to editor KC Cordero for pushing this, and for ABS CBN for supporting the project. Philippine comics continues to evolve, and if you told mea year ago that ABS CBN will be one of those helping that happen I wouldn't have believed you.
Comments