Oct
9
National Book Store and I have had a very long comics related relationship. Back when I was just a kid living in San Pablo, our family would go to Manila monthly to buy groceries, eat out, and to just browse stores. Our favorite place to go to was almost always Makati. Makati back then wasn't anything like it is now. Back then Rustans was a blue box with a geometric design lifted from one of Mies Van Der Rohe's unbuilt designs. Quad was the main place to go to (which is now part of Glorietta). There was a free standing building that was all fast food restaurants beside Shoe Mart. Yes, they still called it Shoe Mart back in those days. Glorietta itself was a an open park of sorts that had shops around it. There was even a Makati Supermarket somewhere in there, and near Greenbelt was another large grocery, but I don't remember the name.
But the one place I loved going to was National Book Store. And of course, comic books were the thing I spent all my 20 peso baon on. But that was actually pretty good because National reprinted comics from America and priced them at P1.75 each, and I managed to get a lot of comics during each trip.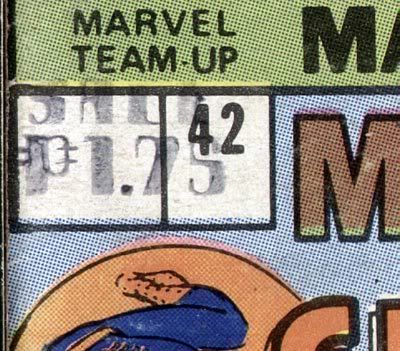 I collected X-Men, Incredible Hulk, Brave and the Bold, Justice League, Superman, Legion of Superheroes, Weird War Tales, Weird Western Tales, Swamp Thing, Spiderman, Marvel Two-In-One, Marvel Comics Presents: Guardians of the Galaxy, Captain America…. pretty much anything I could buy. They pretty much all excited me. I collected these reprints for years and managed to gather a large box full of them. It sort of saddened me when they stopped reprinting, but by then I was slowly weaning myself out of comics.

When I came back to comics in the early 80′s, I returned to National and saw they no longer reprinted American comics, but imported them directly. During the 80′s National had some pretty amazing bargain comics sales. One particular time I found myself at their Avenida branch and there were shelves upon shelves of 10 peso imported comics! I went berserk. I went and bought stuff like Kull (with John Bolton Art), Daredevil (by Frank Miller!), X-men, New Mutants, Teen Titans, History of the DC Universe, Crisis, and many others. There were even prestige format books that were going for around 14 or 15 pesos. At their Recto branch they were selling the individual issues to Frank Miller's Dark Knight Returns for that price! Even though I already had them, I bought them again. I got a lot of Daredevils, Conans, more Teen Titans, various X-Men related mini series, Machine Man…. it was crazy.
Fast forward to around 1998. I was already carving a career for myself in comics. The Wasted compilation published by ALAMAT has been released, and I was absolutely freaking out when Alamat managed to sell it at National Book Store. To see my book on the shelves of the store I had visited for years buying my own comics as a fan, it was a moment that I could not describe. It was intense, it was exciting, it was like a won the lottery. Every time I was at NBS, at pretty much every branch, I would seek out Wasted and see if anyone was buying it. I would hang around nearby shelf and I would quietly whoop victory every time someone picked up a copy.
Pretty soon, Wasted went out of print and my book disappeared from the shelves of National Book Store.
For many years since then, it was a dream to see a book of mine appear on the shelves again, among the many other graphic novels for sale. When Budjette Tan, Arnold Arre, Manix Abrera, Carlo Vergara and all those other guys managed to get their books into National and were ever present at either the Graphic Novel or Philippine Publications section, I was secretly envious. I wished my books could be among them too.
So I'm extremely happy to finally see my book Elmer on the shelves of National, in all their branches nationwide, published by NBS, and will have a launching on October 15, no less. I suppose copies will be first available at the venue of the launching, which is the National Book Store BESTSELLERS on the 4th Floor of Robinson's Galleria, and will soon be rolled out at other branches across the country.
If you're in town, or at the very least Robinson's Galleria on Saturday, please drop by!
Oh yeah, I went to NBS in SM San Pablo yesterday and I saw a bunch of 19 peso Marvel and DC comics. There was a bunch of New Universe titles like Kickers, Legion of Superheroes, Checkmate, and various other 80′s and early 90′s titles. It's not a lot, but I'm glad to see some of them at least. I don't know where they got them, but I wish they get more of them because once I go back, I'll be buying what I can find! A tip to NBS. When it comes to comics… the older the better!
Comments