Nov
18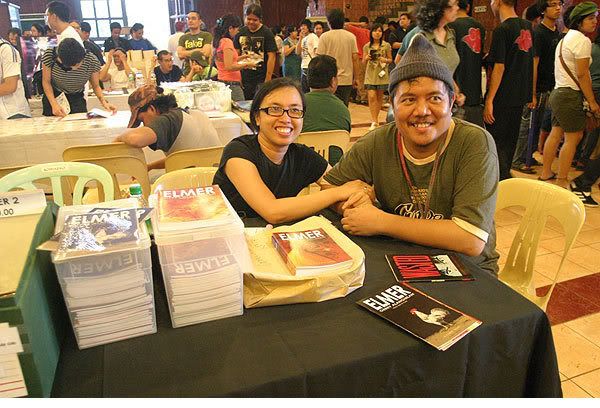 Me and Ilyn. Photographs by Edwin Fornoles
The Komikon has certainly become one of the most important dates within a year for Philippine Comics. Without government support, without big publishers, with no real compensation other than the satisfaction that people want to read your work, comics are relentlessly produced by Filipinos and Filipinas that hold a heartfelt and unfettered love for comics.
This is never more evident than at Komikon. The accomplishments of organizer Artists' Den for the last 3 years have been nothing short of herculean. This year, AD partnered with Groundbreakers Inc to bring the Komikon together, and it's the biggest one yet. It seemed, even by casual observation, that there were much more people around. There is a greater balance in the cross section of creators from the starry eyed young artists to the wizened old veterans, with middle aged folk like me somewhere in between.
I did not get the chance to fully go around and meet everyone and check out what comics they have. I was tied down rather tightly to my table selling and signing Elmer. And speaking of Elmer, the printer promised that they would deliver the third issue to the Komikon venue, much like how they did in 2006. By 10am the comics haven't arrived yet, so I asked Ilyn to call up the printer to ask where the comics are. It turns out the comics were delivered, by mistake, to our house in San Pablo City, some 3 hours away. I don't remember it, but Ilyn describes my reaction as simply speechless shock of disbelief that lasted for a full minute.
What I remember was thinking about nothing. My mind wasn't working, as if it refused to accept further information. I was brought back to my senses when Ilyn told me that they were on their way back, and should be at the Komikon before lunch.
The comics arrived at around 1:30, along with a very apologetic driver, who apparently misunderstood instructions on where to deliver the shipment. I never seemed to be able to get up from my seat much since that time. But a word about my printer, before anything else. I have to say that they have done nothing short of an excellent job in putting together Elmer in print. They know exactly how to print comics and I have no complaints at all with regards to their service. Jamie, the owner, I consider a friend of mine, and probably one of the nicest and most accommodating guys I've met. It was a simple misunderstanding, which I take now as just something hysterically amusing.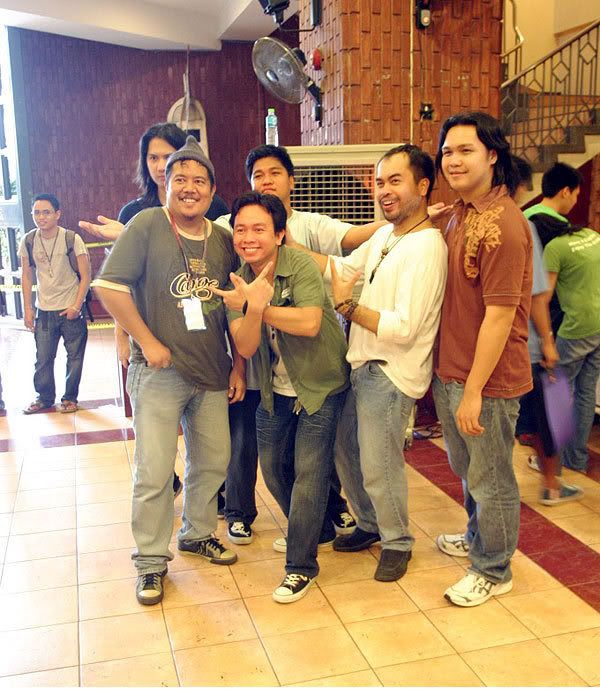 The Komikero Group– Together again!
Mico Suayan, me, Jonas Diego, Ryan Toledo, Johnny Danganan, Henry Anima II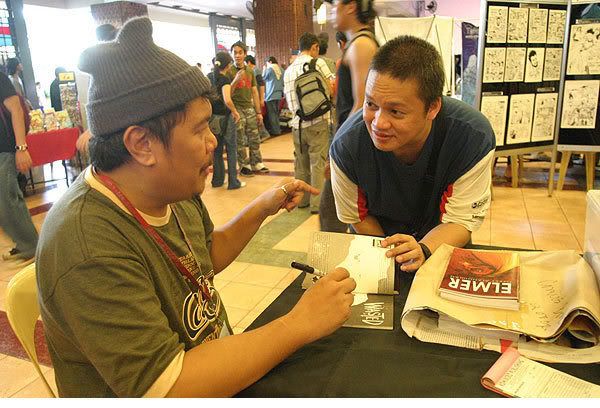 Me and Jaime Fornoles. Jaime and me go back a long way. He's one of my oldest comic book friends, who pays me a visit every Komikon. He contributed a bit of artwork for Elmer and Wasted. His brother Edwin, a professional photographer, took all the photos in this post.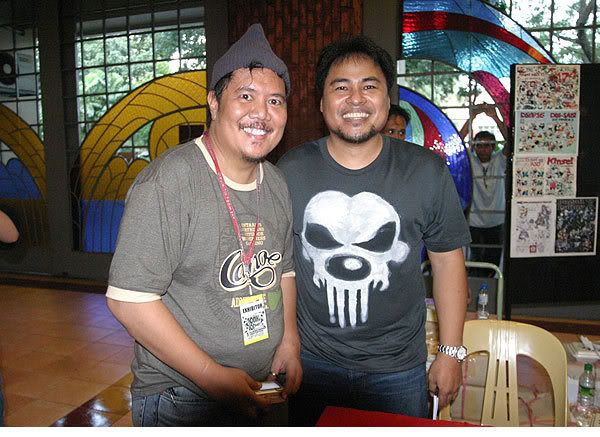 Me and Pugad Baby creator Pol Medina. I'm in AWE of this guy. He's one of the GREATEST!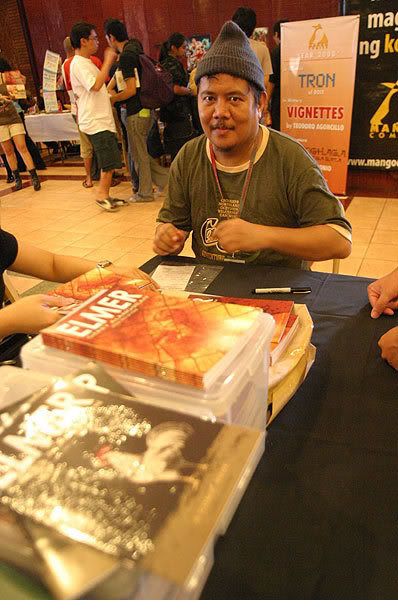 Signing Elmers.
I managed to sneak out once in a short while to check out what comics the other guys have been doing. I came home with a big bag of indie comics. It will probably take me a couple of weeks to a month to read all of them through, but at first glance, the comics that seem to have much potential include "Unstoppable" by Heubert Khan Michael, "Skyworld" by Mervin Ignacio and Ian Sta. Maria, "Atomic Underground 4″ by David Jerickson Serador, Marvin Del Mundo and Michael Seludo, and Josel Nicolas' "Making Up Words". I'm sure I'll discover more promising stuff as soon as I get to look over and read the rest.
I did manage to read Budjette Tan and Kajo Baldisimo's TRESE #7: Embrace of the Unwanted and I have to say, this is still one of my favorite local comic books. I've yet to be disappointed. Each comic book is well written and cleverly infuses traditional mythological ideas into new and fresh settings. This has to be compiled and printed and distributed worldwide. As in TODAY.
And of course, no coverage of mine is complete without the now ever present video! I tried my best with the little footage I managed to get, mixed in with with photos I took with my camera.

Watch this video on You Tube
By this time, Elmer #3 can be bought at branches of Comic Odyssey. I wish I could make deliveries to Comic Quest and Druid's Keep right away, but I have to deal with a pressing deadline for Graphic Classics. Once I get that done, I'll do the rounds of the shops, and then some more.
Elmer #1 has completely sold out, but those who had ordered from me online before November 17 will still be able to get their copies. I think I still have 200 or so copies more of Elmer #2. I'm now trying to decide if I will go ahead and do a reprint of #1, because now that #3 is out, I'm sure people will be looking for the first issue. Even more when #4 finally comes out.
Thanks to everyone who dropped by the table to chat, buy Elmer and artwork!
More Komikon Coverage!
Azrael Colladila's Photo Coverage 1, Photo Coverage 2, Photo Coverage 3
Edgar Tadeo
More Links to follow…
Comments