Sep
24
Something happened on the way home to San Pablo, after I spent a day in Manila last Saturday. I taught comics at The College of St. Benilde in the morning, chatted with a friend in Makati in the afternoon, then caught a bus for the long trip home. I was very tired, sleepy and hungry, and all I wanted was to be at home in my own bed. It was rush hour on a Saturday, everyone else was on their own way home, and worse, it was raining. Very soon it was bumper to bumper traffic and I realized I won't be getting home anytime soon.
I wanted to sleep. The bus conductor opened the overhead TV in the front of the bus, and loaded a DVD. Before I went to sleep, I would at least try and guess what the movie was, based on the opening credits. It's a game that me and Ilyn would play when we would either go to Manila or go back home when a movie is about to be shown on the bus. We'd try to scramble to guess the title of the movie before the other one does.
Well, this time I was alone and I played the game with myself. And I realized I had no idea what the movie was. I don't remember ever seeing any credits at the beginning. It opens with a VHS-quality home movie in a small screen in the middle of the TV screen. The home movie seems to be taken by a group of friends as they enjoy a hike in the mountains together. I thought… "A Blair Witch kind of thing?"
It seems like they were a close group of friends. 3 girls, and 3 guys, all twenty somethings. The writers try hard to make the conversation between the friends as natural as possible, trying to create the illusion of reality, as many of these types of movies seem to do. The latest of these seem to be that new JJ Abrams-produced monster movie. The trailer seems to indicate that the entire movie will be shot from the point of view of witnesses holding personal cameras.
Anyway, back to the movie in the bus. As soon as one of the guys says something like "You guys are my best friends, you know that? No, really!", I suddenly felt a knot in my stomach tighten. That bit of foreshadowing seems a little too obvious. I knew right there that something BAD will happen to these group of friends, I just don't know what, and I didn't know how. Was this going to be like a horror movie? Would they stumble into a serial killer and be killed one by one? Would they kill one of their friends by accident and years later the friend comes back, scarred but alive, hellbent on revenge?
The VHS footage cuts out, and the movie begins in earnest. Apparently two of the friends had gotten married and they now have a baby. The baby cries in the backseat, and the cute couple sing something awfully corny to make the baby sleep again. Foreshadowing again. These guy are seriously in for it.
Flashbacks to the wife's childhood, showing scenes of her father drowning in the sea, leaving her alone. It scarred her for life, making her afraid of the water. Husband, wife and baby arrive at a port beside a yacht owned by one of their friends. At the same time, 2 more of their friends arrive on a motorbike, who also have hooked up together.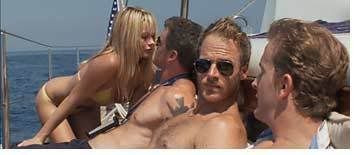 Biker girl and guy board the yacht, followed by the husband. His wife is carrying the baby, and is terrified of getting on the yacht. Her husband is encouraging and patient. The wife flashbacks again to her drowning father, but nevertheless gains confidence to board. She boards quickly.
I thought, all right. It's a SHARK movie. They'll be eaten by sharks one by one in a JAWS-like movie.
The 4 friends and baby discover their friend and yacht owner having hot funky sex with his girlfriend. They seem to enjoy being discovered.
In spite of myself and in spite of the less than stellar (but OK) writing, I was drawn into their lives and their relationships. More and more I didn't want anything bad happening to them. I didn't want the shark to come, I didn't want any sea monster to come, or pirates, or whatever is coming that's going to seriously screw with their lives.
I knew right there I didn't want to watch that movie anymore. It's the last thing I want to watch at that moment. I mean, my favorite show now is PSYCH. That's all I watch now. I got the original DVD of the first season and I'm downloading episodes of the 2nd season. It's a fun show. It's my "happy place" show. If you've seen Happy Gilmore you would know what I mean. That's the kind of thing I want now. Something light and funny. Not dramas like this movie that threatens to make me endure more than an hour's worth of anguish.
I could close my eyes, but I can't shut out the sound. And in spite of myself, much as I don't want to watch it, my eyes were glued to the screen, curious but dreading what happens next.
The yacht goes into the middle of nowhere and 4 of the friends jump into the water. In goes biker girl and guy, the husband and the yacht owner's girlfriend. The wife is below decks trying to make her baby sleep. Yacht owner seems to have a previous relationship with the wife, and is trying to get something going. She refuses, and asks that they get up on deck. She's wearing a life jacket. The others were teasing her about it earlier, but she doesn't explain why she wears it.
Yacht owner, apparently immature, lifts the girl off her feet, threatening to throw her overboard. Naturally, she freaks. He laughs, saying he's going to cure her of her phobia. She freaks out even more. He jumps in the water with her in his arms. SPLASH.
All was silence in the bus. Apparently, many of the passengers were really caught up in what was happening. I heard some guy say "SHIT" when the guy jumped.
The wife is in the water, and she's still, her eyes staring into the sky. She seems catatonic. Immature yacht owner doesn't know what's going on. DUH. It was just a joke he says. Just a prank. He didn't know she was going to react that way. DUH. Husband is livid. The others just laugh.
"Ha ha. OK, she seems OK, let's get her aboard. Where's the ladder?"
There's a pause. Yes, where's the ladder? The ladder that you lower to the side that would allow them to get back on board?
It's not there.
Nobody bothered to lower it.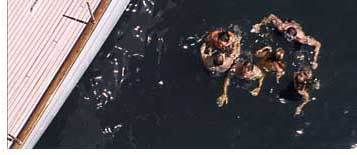 Nervous laughs all around. Yacht owner gets genial teasing about being stupid for not lowering the ladder before he jumped. Yeah. ha! ha! You're so stupid man, why'd you do that? Ha! ha! Ok, let's get aboard now. It's getting cold. Come on now.
They try to jump out of the water, trying to reach the deck, but it's too high. They try several times all around the yacht. Nobody can reach the deck. It's simply too high.
And then a sickening realization suddenly sets in. Oh my God. So this is what the movie is about. They've stupidly trapped themselves in the water, beside a yacht that's in perfect working order, in the middle of nowhere. The wife is the only one with the life vest, and everybody's just threading, and slowly tiring. And let's not forget the baby on board, who is at the moment, thankfully still asleep.
The genial teasing turns ugly. How can you be so stupid? You bought a fucking yacht and you don't know how to fucking lower a ladder? Yacht owner says sorry a lot.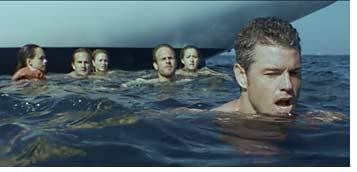 At that moment, I knew I won't be able to stand this. I won't be able to take seeing these people die one by one. Why can't I have a choice NOT to watch it? Why I can't I just close my eyes or look out the window? Outside the window it's too dark and I can't see anything. The sound of the movie keeps calling me back. I hated having to watch. I hated how bad it made me feel. I was literally tormented, stewing in my seat. But I also hated the fact that I can no longer look away. I just knew I had to find out what happened. I had to find out as many specific details about the movie as I can. I tried to remember the names of the characters, the name of the boat, etc, so I can search online later what this movie is. The wife seemed familiar, and the idiot yacht owner seemed familiar. But I couldn't recall where I had seen them before.
There is a flag at the back of the boat, flapping in the air. Timing it right, one of the guys manages to grab the the flag, but rips it off when he tries to climb it.
Yacht owner's girlfriend is starting to freak out. She claims something grazed her legs. She starts to scream. Yacht owner uses goggles to look below but sees nothing. Yacht owner's girlfriend is cold and she tries to grab the wife's life jacket, screaming why doesn't she share? They manage to calm her down.
Husband asks yacht owner if there's a way inside from under the boat. He responds, "Look, I bought it because it looked cool! What do I know about it?" Husband shakes his head, borrows a knife that the biker guy kept in his shorts and he goes under the boat looking for a way in.
Fumbling under the boat, he loses the knife in the water. People in the bus react in shock with a series of "tsks". But then, he follows the knife as it falls deeper. He manages to grab it. Almost out of oxygen, he scampers desperately back to the surface. He's coming up fast. He bumps his head under the boat. People in the bus react with even more shock. He is seen sinking in the water.
In the meantime, yacht owner stumbles upon the idea I had been thinking about earlier. They strip and tie their trunks and bikinis and the ripped flag together to make a rope. They manage to hook the "rope" into the deck and yacht owner tries to get up. He manages to grip the deck. He falls. The bus passengers wince in pain. He tries again, the rope breaks apart, and they seem to have given up on the idea afterwards.
What? If they manage to grip the deck with that trick, they can try again and do better. What the hell! And why don't they get one of the girls to climb, who would be lighter, and less likely to tear the rope apart? I was starting to rail inwardly at the stupidity of not only the characters in the story, but in the writers as well.
The wife finally notices that her husband has been gone a long time. She starts to panic. But then she sees him on the other side of the boat, seemingly in shock, his ear bleeding. She freaks out a bit, and calls attention to the others. They all freak out and try desperately for a way to get out of their predicament. The yacht owner's girlfriend freaks out the most. Her snout is starting to get annoying. I wish she would drown just to shut her up.
Biker guy asks the husband for the knife, who surprisingly manages not to let go of it. Biker guy freaks out and starts stabbing the side of the yacht where the ladder is supposed to pop out. Yacht owner freaks out and tries to stop biker guy from stabbing his boat. They grapple with the knife. Biker gets stabbed in the chest. The water is suddenly full of blood. Biker girl freaks out for the first time. But she's smart and tries to stop the bleeding with the torn flag.
Some woman in the bus exclaims, "Tsk, they just called the sharks!"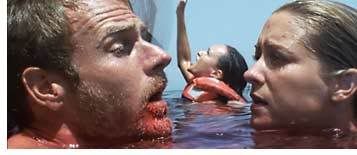 Everybody's freaking out. Biker guy is groaning. Biker girl is howling. Baby starts to cry. Wife starts to scream for her baby. Husband is zoned out. Yacht owner is racked with guilt, and his girlfriend, shock on her face, calmly swims away, death in her eyes.
Yacht owner realizes his girlfriend is gone and goes after her. He sees her sinking, drowned. He lets her go. Back at the boat, biker guy dies. Biker girl howls even more.
Gaining a bit of consciousness, husband punches yacht owner in the face. Bravado gone, he bawls like a young boy. The boat is not his. It's owned by his boss. He's nothing but a paper pusher. Insignificant. He just likes to show off and pretend to own the boat to his friends. Husband and wife go to biker girl and convinces her to let biker guy go. And she does. Biker girl, resolve on her face, says she won't wait to die. She will swim for shore and get help. She says she's strong and she will make it. And then she swims away.
Assuming control of the situation, the wife asks former yacht owner if he can find the knife. Given something to do, he puts on his goggles and spends the next hour diving. By this time it has gotten dark, and it starts to rain. Husband wastes away, says his final goodbyes, and finally dies. She howls in anguish. And then she lets him go. It's now just her, the former yacht owner, and the baby left alive. She is determined to survive.
Unable to find the knife, former yacht owner returns to the boat, removes his goggles, and hits the boat with it, screaming in the rain, "It should have been me! It should have been me!" You bet your ass it should have been you. His hand starts to bleed, the broken goggles in his hand. He notices that the glass has been dislodged. He gets an idea.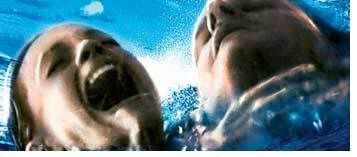 He returns to the side of the boat that biker guy stabbed with the knife earlier. Biker guy managed to lift a bit of the hull when he stabbed it, creating a hole. Former yacht owner jabs the goggle glass into the hole and grips it tight. With him being supported by it, he asks the wife to climb over him to get to the deck. She tries to climb. She falls. The passengers of the bus collectively sighs in frustration. She tries and falls again. And on the third try, she succeeds. ENORMOUS sigh of relief from the passengers. She presses the button that would lower the ladder. She assumes former yacht owner to get on it, as she runs below decks to see to her baby, who had fallen off the bed. She cradles her baby in her arms for some time.
Then she realizes that former yacht owner hasn't gotten on the boat. She runs on the deck and she sees him swimming away. She throws him a life preserver but he ignores it. Against her better judgment, she jumps after him.
Next day. The sun is out and another boat is approaching the yacht. The life preserver floats idly beside the yacht. Nobody can be seen on the deck. The baby is crying. Where are they? Are they dead?
Next scene is strange. The other boat has disappeared. The wife is on the deck, alive looking zoned out. The baby is still crying. Former yacht owner is on the deck on his stomach, lying motionless. Is he dead? Why doesn't she seem to care that her baby is crying? Where has the second boat gone? Are they spirits?
Unfortunately, the movie ends at that note, ambiguous, and frustrating. Whatever happened to biker girl?
At home later, I learned that the title of the movie is ADRIFT: OPEN WATER 2. It says it's based on a true story where all six friends died. I wouldn't put the movie into my all time best movies list, but oh man, it's been days and I'm still haunted by it. I want to buy the DVD so I can own it and remember the experience of having watched it.
And if you have read this far, THANK YOU. It was such a harrowing trip back home, and I'm just looking to subject other people to my horror as much as I can. For standing it, you have my eternal gratitude.
Comments