Feb
22

Hell, what do I care, we'll all be dead anyway.
By then I'll be 70, which in that case I'll be too old and most likely waiting for the end, or I'd already have been dead. It's times like this I'm glad I don't have children. But it doesn't really bother me on a personal level. I'm not really afraid of dying (well, maybe just a little bit afraid that it's gonna hurt). I'm thinking more about the survival of our culture, and of our very civilization.
Most likely it will happen. Maybe not in the time calculated, maybe sooner, maybe later. But I'm sure it will happen eventually. What's going to happen to the things we create, our paintings, our music, our films, our artwork. I may have tried very hard to preserve as much Filipino komiks art as possible, restoring and digitizing as much as I can, but knowing that all of this will be permanently gone when the time comes makes me somewhat sad.
I guess it's the Trekkie in me. I'm familiar with thinking about the vast eternity of space, and the colossal amounts of time from one eon to another. The 65 years a normal person have to live is nothing, absolutely nothing when you count a single heartbeat of the universe in billions of years. The number is simply too large to even imagine.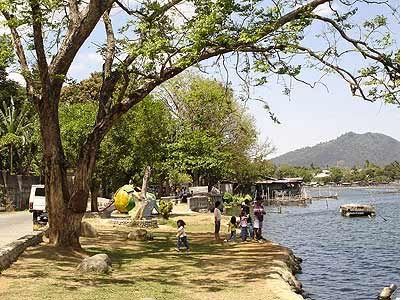 Now before my head explodes, I better go and announce the Komikero Meeting for February, which will be this Sunday, February 25, 10am upwards. If you haven't joined us before, consult this map. We'll most likely be hanging out Area B. It looks something like the photo on the left.
If we're not there, just go much further as there will be more parks further up the road.
If you arrive lunchtime, we'll most likely be at the Spaghetti House along Mabini.
Bring your sketchbooks, cameras, whatever you want… Let's do some DRAWING this time eh?
If in case it rains, there's a covered court near the lake, behind the Municipal Hall, beside the One Stop Center. Except for the other day when there's huge thunderstorm, the weather has been exactly like that in the picture for the past few weeks. I hope it holds up!
Comments