Feb
21
Click here for my first article where I talked about the need to respect comics a true artistic medium.
Here, I will continue with my article, which I hope will be taken as suggestions on what I believe need to be done, if our industry will ever be revived.
2. Artists Have to Be Respected
For the many decades of Philippine komiks history, artists have been regarded widely as second class citizens within the industry, where writers held predominance and were held in positions of much more importance than the artist.
This has been manifested through different means.
One is through credit. Another is through compensation.  In any given komiks issue, the title page has the title with the name of the writer prominently displayed. Sometimes, the name of the artist is smaller and is sometimes placed on a different part of the page. Sometimes, the name of the artist is nowhere to be seen at all.
When a komiks story is advertised in other komiks magazines of the same company, more often than not, it is only the name of the writer that is attached to it.
When a komiks story is translated into TV and movies, it is only the writer that is given credit, and it is only the writer that is given due compensation. The "creating artist" is more or less forgotten. What is meant by "creating artist" is the artist who was responsible for putting into paper the visual look of the characters and settings.
Sometimes, a writer will give the creating artist a "balato" ( a goodwill donation of sorts) when the story is made into a TV series or film. Although well intended, the "balato" is far from what the artists deserve.
Many artists, including my father in law Rudy Florese and Elmer Esquivas, have expressed anger and frustration about these things. Elmer Esquivas even felt so insulted at the paltry "balato" that was being offered to him that he refused to take it. Being artists, they more often than not choose to remain quiet and seethe in silence, and they have done so for many years. It is through family members that I am made aware of such things and it is through their permission I am relating this to everyone now.
This is a practice that has to end if anyone in the industry ever hopes to revive it. The creating artists should receive credit, and due compensation for their efforts.
Let me be more plain.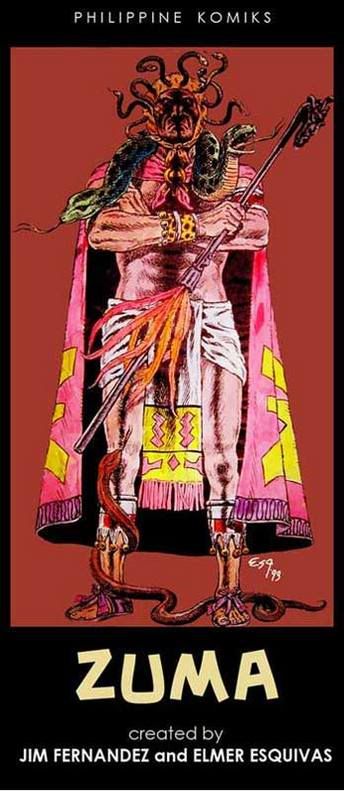 If Kampanerang Kuba is ever made into a series or film again , due credit and compensation must be given to Alex Niño, who was the creating artist of that series. The title should read: Pablo S. Gomez and Alex Niño's KAMPANERANG KUBA.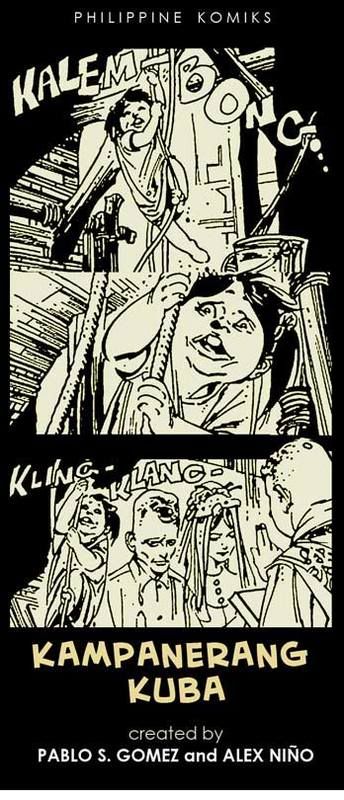 If ZUMA is once again seen on TV or film, due credit and compensation must be given to the family of Elmer Esquivas, who was the creating artist of the character in "Dugong Aztec" as serialized in REX Komiks.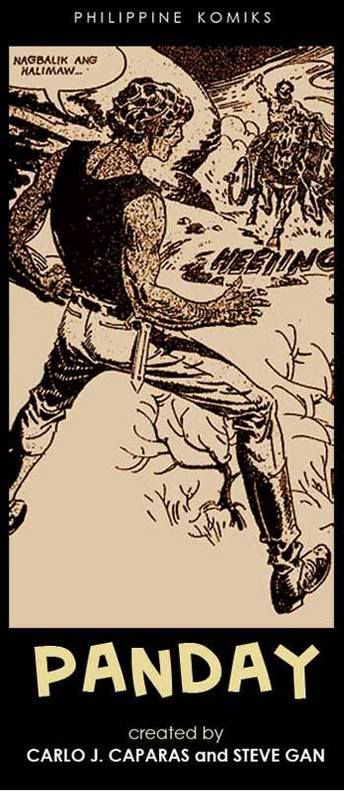 If PANDAY or BAKEKANG are ever filmed again, and they surely will, due credit and compensation must be given to both Steve Gan and Mar Santana respectively, who are the creating artists.
If SuperMando is ever filmed, due credit and compensation must be given to Abe Ocampo, who is the creating artist of the series, currently being serailized in Liwayway.
These are just a few I can mention.
Where would the original X-Men be without Stan Lee AND Jack Kirby? How about Spiderman by Stan Lee AND Steve Ditko? How about Superman by Joe Siegel AND Joe Schuster? I'm pointing this out not just because I want us to do what the Americans are doing, but because it is the right thing to do. It is the right thing to do for our artists.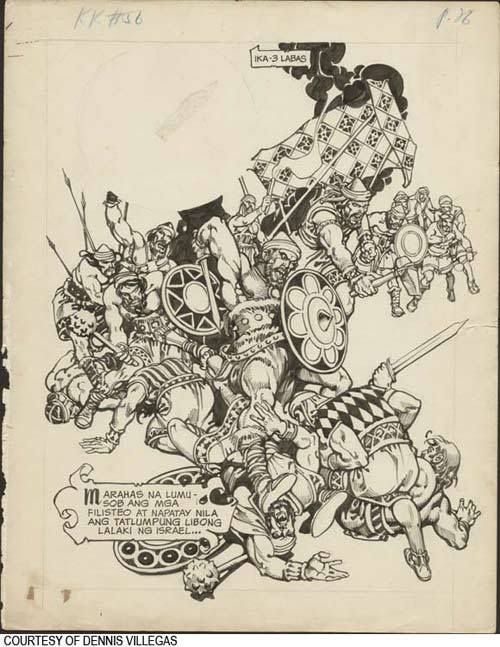 SAMUEL, Art by Emil Rodriguez
KENKOY KOMIKS #56, 1961
On the matter of original artwork, it has been the practice for many years, specially during the early years of the industry, for publishers to keep the original art believing them to be their property. Since thousands of komiks were being published annually, storage space in their warehouses were soon running out. They then bundled the thousands of pages of artwork together, had them shipped out and then destroyed. It is easy to be so angered by these things, but one can only wish publishers were only aware then of what we are aware of now.
I am indescribably sad that we have lost hundreds upon hundreds of beautiful artwork that can never be replaced or be seen ever again. Our artists created such wonderful and stunningly beautiful illustrations in those days, and thinking that they were either shredded or burnt because publishers never realized their cultural and historical value makes me almost break down in tears.
Today we know better. An artist should receive all his original artwork back. Although it may not be within the artist's rights to use the image on the paper for profit, specially if he is not the copyright owner of the story or characters, it is perfectly within his rights, as guaranteed by the Intellectual Property Code of the Philippines, to own or sell that piece of paper if he so wishes.
An artist should also be paid well. I'm not talking about a pathetic 100 pesos per page, or even 200 pesos per page.
Think of it this way. I'm sure nobody who has been successful enough to work in comics is doing simply because of the money. Comics is a very *very* difficult job. Nobody would last here if he is doing it for reasons other than a love for the medium.
But if an artist is not making a living out of comics, if what he is earning is not enough to feed and support his family, one of two things will happen. One, he will accept more assignments in order to earn enough to live on, and that means crappy, rushed art (as we all have seen in the last couple of decades), or two, this artist will quit altogether and find a job elsewhere, in a different field.
The reason why we had the best artists in the 50′s and 60′s was because they not only loved comics, they actually made a good living out of it. We still have very good artists today, but you won't find them in comics. They're in advertising, they're in animation, they're in computer graphics because that is where they can make their living as artists.
But because many of these artists love comics, they STILL create comics in their free time, self publishing out of their own pockets. THIS is the reason why comics have persisted in the country during the past 15 years under the younger generation, during a time when the industry was collapsing and no real money was being made in the business. But this is why they are not doing comics as often as they would like. They are off making a living for themselves in other fields because working in comics simply cannot support them.
I can BET anyone that these people will leave their jobs in an instant if only they can do financially well in comics.
This is something that people at the congress have to consider. Comics simply has to become an income generating industry that pays its creators well. How that will be accomplished is beyond me. This is for the more business-minded than me. An industry cannot be sustained by writers and artists alone. There has to be businessmen that will come in with the big money to make this great big machine go. Us writers and artists will be responsible for creating comics that people will hopefully appreciate and buy.
These suggestions of mine simply point to one objective, and that is respect for the artist. You respect the artist by acknowledging his creations, and then make sure he is rewarded for it.
If an artist can have these, you can be sure that he will stay in comics, and do all that he can to create the best work possible.
For more updates/opinion on the Komiks Congress, read Jonas Diego, Randy Valiente and John Becaro.
NOTE: Discussion for this topic will be entertained at the relevant thread of the Philippine Komiks Message Board.
+
Incidentally, the schedule for the exhibit tomorrow has moved yet again, from 10am to 11am. See you all there!
Comments