Jul
31
The Filipino komiks artists simply love doing two page spreads. The history of Philippine komiks art is just ripe with legendary spreads as those by Alfredo Alcala for Voltar, Alex Niño for Pamela, and the collaboration of Francisco V. Coching and Federico Javinal on the opening chapters of many of their komiks-novels.
In the 70′s, one of the most prominent exponent of the two-page spread was Hal Santiago.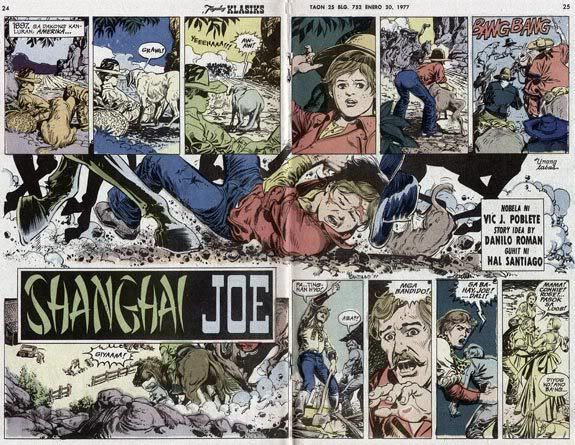 Hal Santiago used spreads quite extensively in the many novels he worked on in the 70′s. Not only did he like using them, he drew them large. When the standard size of the original art of spreads today is 22″X17″, Hal's were twice as large at 28.5″X22″. To employ a spread that size today would pose a difficult problem as to how to scan that into the computer, without taking a photograph.
The spread seemed to have been popular in the 70′s across various publications. The one below is by Dell Barras.
It's as if a lot of artists inspired each other, trying to outdo each other's 2 page spreads. The one below is a special portfolio piece by Sonny Trinidad.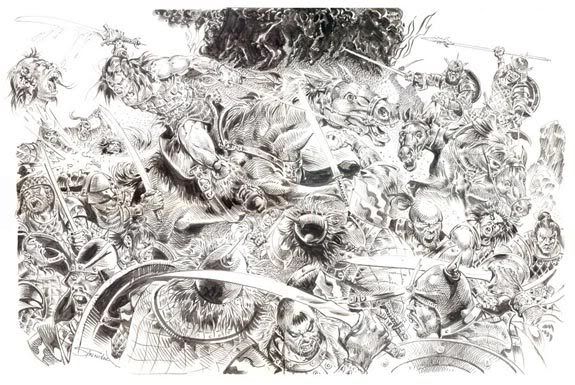 My love for the spread no doubt came from seeing them done by many of these artists. I've employed it numerous times on many comics projects including Timawa and Humanis Rex! If I ever get Timawa once again off the ground, I will certainly use the spread quite generously in its telling.
Comments