Feb
18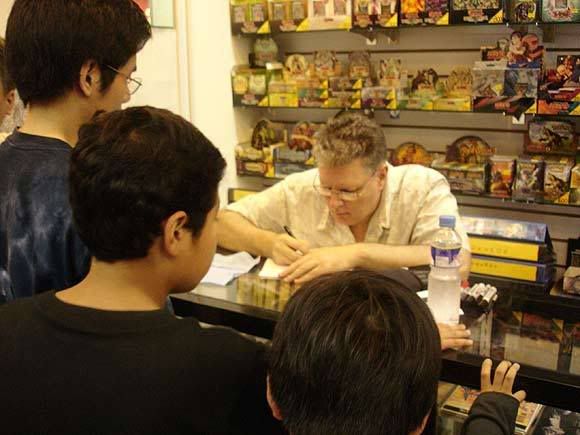 *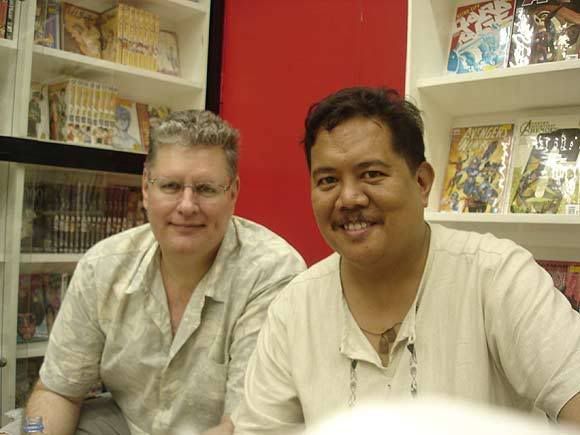 *
That's me with John Beatty above, and on top, there's John doing sketches for his fans. John is well known to comics fans all over the world as the inker on many popular comic books including Batman, Deadman, Captain America, Punisher, Secret Wars (the first one!) and many more. He's in town for a vacation and although it wasn't originally in his plans, he decided to do a signing for Comics Odyssey in Robinson's Galleria, Ortigas today.
John and I had been corresponding on and off for many years, dating back to an old inker's mailing list, but this is actually the first time I met him in person. I wish I could have brought my old Punisher #1, which had already been signed by Steven Grant, but I couldn't find it in the house.
I also took this opporunity to meet with a few Filipino comics creators and interview them, for a video presentation at the upcoming Komiks Congress, which is now moved to early March.
An art exhibit will be held at the venue of the Congress, at the lobby of the National Commission for Culture and the Arts or the NCCA, located along General Luna Street, Intramuros, Manila. The art exhibit will be officially opened on February 22 at 2:00pm, and will serve as a lead-in to the congress itself. The list of artists included in the exhibit are:
NAR CASTRO
VIC AURE
JOMARIE MONGCAL
JUN LOFAMIA
AL CABRAL
STEVE GAN
JESS JODLOMAN
CARL COMENDADOR
PERRY CRUZ
FLORENCE MAGLALANG
RENN MAGLALANG
ROD SANTIAGO
RENE CELEMENTE
RENE CORTEZ
DING ABUBOT
YONG MONTANO
AL SANCHEZ
HANNIBAL IBARRA
REY ARCILLA
FERDEEE BAMBICO
DANTE BARRENO
LAN MEDINA
RUDY VILLANUEVA
ALFREDO ALCALA
FEDERICO JAVINAL
MAR SANTANA
ERNIE PATRICIO
NESTOR MALGAPO
ARNEL AVETRIA
MANDING DE GUZMAN
JUN DE FELIPE
TONY ANCHETA
RANDY VALIENTE
NAR CANTILLO
VIC POBLETE
ABE OCAMPO
MARIO MACALINDONG
JOEY CELERIO
JUNE GABRIEL
TONY ANCHETA
JOSEPH VILLAMAR
VAL PABULOS
DON SANTOS
RUBEN YANDOC
NAR CANTILLO
JOHN BECARO
DANNY ACUNA
BERT GABIANO
JOJO GALICIA
JIMMY PABULOS
LARRY GALVEZ
NAR DE MESA
ARTURO DOMINGUEZ
Greater emphasis was given to the work of the older generation of artists, and it's nice to see that artists who have passed on like Alfredo Alcala (Voltar), Ruben Yandoc, and Mar Santana (Lastikman) shall be represented by their artwork.
Notable on this list is Lan Medina, who is old enough to have been actively involved in the old komiks industry, and is now enjoying much international recognition for his work on DC's Vertigo and Marvel.
Comments