Jun
16
I can finally make the announcement that "The Marvelous Adventures of the Amazing Dr. Rizal" will begin serializing in FUDGE Magazine beginning in August, with two full color pages a month! I've been receiving a lot of feedback about this series from this blog and from pages I posted at DeviantArt, and like Elmer, there's a lot of speculation about what exactly the series is about, and just how I'm going to be treating Jose Rizal.
Rizal is one of my greatest heroes, and I will certainly be treating him with the utmost respect. But I will respect him enough to be honest about who he really was, and not treat him as some infallible saint that a lot of textbooks have historically painted him to be. I will try to make this Rizal as close to who he really was, and it is basically, ordinarily, human. And by rising above his flaws and shortcomings, in ways that many of us can only imagine, he becomes even more heroic.
But then of course, this is also a fictional story. Many of the events that will be told never really happened. It is a speculation on what could have happened had Rizal's life had taken a different course, if extraordinary circumstances sought to change Rizal and history forever.
I received feedback on the art style I am using for the series. Although a lot of people have really liked the clean style of art I have adopted, there are those who feel that my work is veering a little too close to that of Herge, who created the Adventures of Tintin. Believe me, if this was true, the irony, and yes, even the hypocrisy, is not lost on me. After countless articles admonishing unoriginality,could I be in danger of being guilty of it myself? Yes, definitely there is the danger. After all, I'm a unabashed fan of Tintin since childhood.
But I want to assure everyone that I am trying very hard not to copy Herge. It would be pretty stupid, isn't it, for me to talk about originality, and yet not try and practice it myself? It was never my intent to imitate anyone, and it's something I did not strive to do. Looking at the piece I've done earlier, I can see how that interpretation could be made, and I am taking note of it, and will change my approach in subsequent pages. What I tried to accomplish first and foremost, was to be as clean with the linework as I can. This is basically how I have drawn all this time, from Wasted, to Timawa, to Ochlocrat, and to Humanis Rex. The difference being, I just got rid of all the hatching. What is left is what the art has become so far. And colored a certain way, I can definitely see how the comparison could be made.
Basing on the promo art above, one can clearly see that I'm not doing Herge at all, and this is something I will continue to uphold from this time on.
*********
Obviously, the phone and Internet are back, much sooner than I expected. I've already uploaded two strips for my daily online strip for yesterday and today. They speak of my frustration at the situation, and although what I speak of there is no longer true today, I think I'll just let the strips be. I kind of like the last one (out today) and it would be a shame if I had to scrap it. I'm just sorry I will have to hurl more unfounded things about PLDT, which makes me feel a bit guilty when they fixed the phone rather quickly. If you want to read the latest strip, just click here. The new one comes in at 1pm, Philippine time.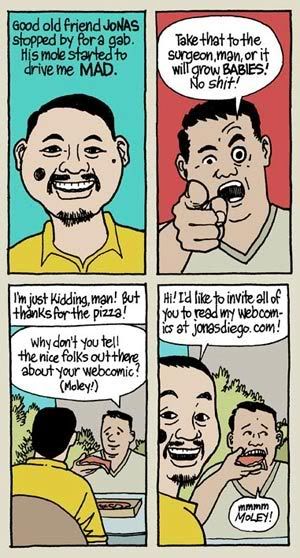 And speaking of comics on the web. Old pal Jonas Diego, so accurately depicted above, has put up a Philippine online comics webring called "The Webcomic Republic" of which I am 1/6th of the artists who have joined. For more info, check out his blog here.
***********
I also wanted to talk about our recent auction again, to which Jonas and I are contributing artwork. It's really not for us, but for the benefit of a good friend of ours in need, so if you're one of those who got money to burn, I think our pieces up for auction would be a good addition to your collection. I've got a cover of X-Force by Whilce Portacio, a splash page from Superman: Birthright and a page from Silent Dragon, all pencilled by Leinil Francis Yu and inked by me. Jonas has three pencil illustrations of Blade, Purgatori and Mummy.
Bid! There's only two more days to go! We'll send you free comics if you win! :)
http://search.ebay.com/_W0QQsassZkomikeroQQhtZ-1

Thanks!
Comments