Feb
14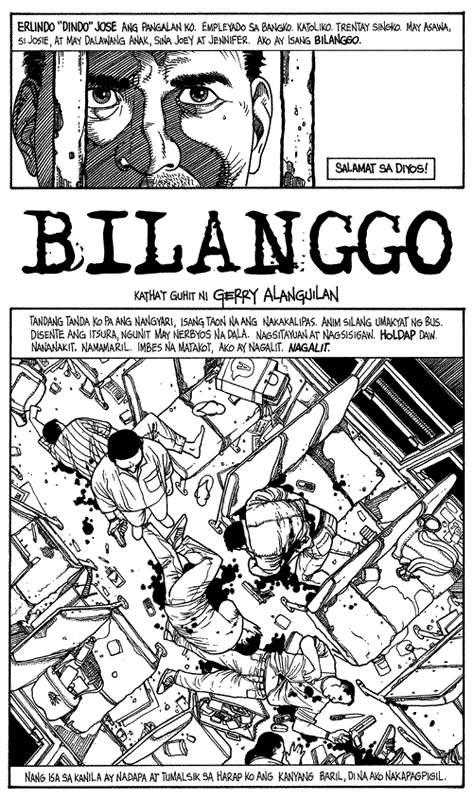 I was really impressed that Rising Star Printing Enterprise had the sheer audacity to be the first komiks publisher since the collapse of the industry to release a tagalog comic book nationwide that is geared towards the old industry's traditional audience: the Filipino masa.
I am the first to admit that the issue of Filipino Komiks is by no means perfect. It is an admirable effort, but it needs a a lot of hammering to make it a much better publication. But I admire them nevertheless for putting their money where their mouth is, and take this great risk.
I consider it the first serious effort to revive the komiks industry on a national scale. Sure me and my contemporaries have been publishing our own comics since the early 90′s, but our efforts are limited by our personal finances, and can accomplish only so much.
In support of Rising Star and Filipino Komiks, I have written and drawn a 5 page story entitled "Bilanggo" ("Prisoner") which will appear in issue #2.
Below is another page I have written and drawn (and have yet to letter and color) for a 3-page tagalog story called "The Hunt", which I'm doing for another Philippine publication.
I posted this very same image at my DeviantArt page, and I was surprised at the response. I got a Daily Deviation feature, and lots of views and comments. It was the first time I got such a response to an illustration of mine over at DA. It was very surprising and thrilling at the same time.
I hope to finish this short story soon because I myself can't wait to see it in print. It's still always a thrill for me to see my work published and printed. I'm glad to know that it's a feeling I've yet to lose. I don't think I will.
Comments