Feb
11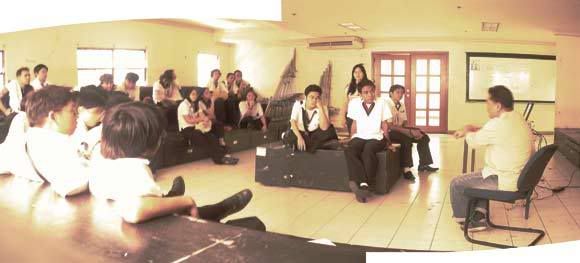 The Illustrators Guild of the University of Santo Tomas, College of Fine Arts and Design invited me to give a talk on comics for their February General Assembly. I ended up talking about my experience entering and being in the comics industry, as well as present artwork by the great Filipino illustrators like Francisco V. Coching, Alex Niño, Nestor Redondo, etc.
It was a bit of an informal talk. I didn't even prepare anything to say, except for a few sentences from which I could begin talking with. It was rather quite enjoyable for me, which is surprising. I've long avoided things like this because I've always felt I won't be as effective talking as I am doing the work I'm here for, which is writing and drawing.
I look at it now as a great opportunity to not only try to guide young artists to start with the basics before doing anything else, but to also introduce/reintroduce them to our rich history of komiks art. I'm always very glad when young people come away very impressed with a piece of art by Alex Niño or Alfredo Alcala or Nestor Redondo.
There were some surprises. My brother showed up just to hang out. Marius was also there, and I didn't realize (or maybe even remembered) that he is currently studying at UST.
I put together a video (I'm sure you're not surprised) of the day's events, and then some. The video below is hosted on Live Video, which gives a much better video quality.
If you prefer You Tube, click here.
Comments