Eisner Award nominated comics creator Rod Espinosa of Courageous Princess and Snow White, along with Ambush creator Andrew Villar will have a signing at Comicxhub, 3F Bloomingdale Plaza, Shaw Blvd. Barangay Kapitolyo in Pasig on June 1, 2013, beginning 10am. They will be singing and sketching on blank covers.
Rod Espinosa Website
http://www.courageousprincess.com/
Andrew Villar/Ambush Comics on Facebook
http://www.facebook.com/ambushbyanvil
It was last year when I first heard the rumblings of what is now known as Black Ink Comics. It was quite a big surprise when the publisher was revealed to be Precious Pages Corporation, the same publisher of the popular and commercially successful Precious Hearts Romance pocketbooks. Immediately, the significance of this was apparent: a major publisher of popular entertainment is about to enter comics publication and enter it in a big way. The last time anything this big was attempted was in 2007 by Sterling Paper. I thought this was kind of a big deal. If they are able to translate their success to comics the way they did romance pocket books, it could mean great things for the Philippine Komiks Industry. I for one am full of optimism.
I got in touch with a few creative people as well as editorial at Black Ink and I asked them a series of similar questions.
GILBERT MONSANTO
1. Can you tell me something about yourself as a comic book creator? What were the highlights of your work in comics?
I have been a freelance comic book artist for more than twenty years locally. I've done some independent titles here and abroad. I was the chief instructor for Whilce Portacio's comic school for three years here in Manila before. Titles like Biotrog, Hellcop, and Bayan Knights are just a few of my familiar works.
2. How did you get involved in Black Ink, and what titles are you working on?
I think I came in almost late, but still lucky to be part of the first batch of books to be released. My writer, Jeffrey Marcelino Ong, contacted me via Facebook about his book and his plans with this new and exciting company. As always, I am open but cautious to be working with a company that I've never worked on before. Since Jeff told me about the good plans they have for us and the local comics industry, I agreed and went to the meeting to meet the team. We are assigned to do Hands of the Dragon. I think it was a good decision on my part.
3. How do you feel about the Precious Pages Corporation entering the local komiks industry in such a big way?
I think it is about time that a big company would try komiks again. I think their Graphic Novel format is just right for this time and age. I would say, so far so good. Black Ink Comics is a refreshing new chapter in our world of komiks.
4. As a comic book publisher, writer and artist yourself, how does it feel to be part of a company like this? Do you have any limitations or can you draw however you want? How different is it working on your own Bayan Knights books compared to the work you do for Black Ink?
For one, as a self publishing creator. their resources and distribution can never be compared to my very small own. As for limitations in terms of the actual books, they trust us to deliver. We have almost free reign over our art. They would edit the scripts and also do the proofreading and all the other stuff and because they are well organized, I think we and our books are blessed that way. I haven't explored creator-owned projects with them yet, but I believe I will in the future.
5. What kind of impact would you like Black Ink to have in the current komiks industry?
My hopes might differ from theirs and I would want to say too much but aside from gaining more trust and popularity for the local graphic story medium or comics. I would say, I hope that they will come up with the right or perfect deals for the creative people behind ever book they produce. A more reasonable and ideal terms that will be both beneficial to us all.
RANDY VALIENTE
1. Can you tell me something about yourself as a comic book creator? What were the highlights of your work in comics?
I started working in komiks, officially, in 1989 after a year of study from Joseph Christian and Hal Santiago's Komiks Illustration Workshop. I was very young at that time and still in high school but I regularly visit GASI to ask for work.
Because komiks publications were sinking in the 90s, and I admittedly not very good in my drawing at that time, I became a fullt-time writer in 2005, started writing komiks script, then pocketbooks, newspaper and magazine articles.
I got bored, or maybe got tired of writing, in the late 1990s and early 2000, so I decided to go back to visual arts in 2000. Unfortunately, if I want to still draw comics, I have no choice but to work abroad through internet. So I did.
2. How did you get involved in Black Ink, and what titles are you working on?
Although I am working not just in comics but in animation, films, and game productions, I am very much inclined with comics community. I am active with the activities from Komikons to online chatrooms. One time, writer Ron Mendoza contacted me if I want to do local komiks again. I got very interested right away, maybe because I felt 'at home' with the people when I learned that some of the writers and artists were from GASI and Atlas. I missed these guys, you know, I've been away from local komiks publications for more than a decade.
My Midnight and Animen by Ron Mendoza offered to me because, honestly, I am the only artist in the group when we had our fist meetings last year. We invited other artists to work with us but they were not interested at that time. I don't know, maybe they were not convinced that this newly-formed komiks group will push through.
I am also writing 'Fairies Wheel' with different artists on the line up.
3. How do you feel about the Precious Pages Corporation entering the local komiks industry in such a big way?
Precious Pages is not new to komiks world, actually. The owner Jun Matias is a very huge-huge fan of Filipino komiks especially in the 70s and 80s. He could name almost all the famous writers of the industry–from Pablo Gomez to Elena Patron to Gilda Olvidado and could tell their famous novels. Sir Jun is also a writer himself before PHR company was born and used to visit GASI in the 80s. He could also tell the artists area where he always sees illustrators doing their deadlines.
Sir Jun is also a friend of komiks writer-artist Vincent Kua Jr., which the latter designed the now-famous logo of Precious Hearts Romances.
One time, I brought illustrator Louie Celerio to one of our meetings, and Sir Jun got excited and told his staff that he is a big fan of Mang Louie.
4. Can you describe your working relationship with your writer? Do you have any limitations as far as drawing goes, or are you free to draw however you want?
I feel at home with 'Filipino-style' komiks script. Working in foreign comics for almost a decade now, I think we are the only one the uses 'bahala ka na' (up to you) for the illustrations guide. You just have to understand the story. I felt more freedom with this since American script are more detailed and specific.
Black Ink, in terms of illustration style, is very open. The editorial group is actually inviting artists to submit samples for review. It's just that the first titles were more of a 'traditional look' because, as I said, when we started the meetings, we had a hard time finding artists to work with us.
But now, when we first launch our books last year at Komikon, we gained attention from indie and international artists and some of them are working with us.
We now have two manga titles. I am very happy working with the publisher and the editorial team because they are very open for what I would like to do, but of course, they also look for the saleability of the title. Our regular meetings actually were about this– the titles, the marketing, the readers, the future plans.
PHR is the biggest publisher of romance stories in the country, and the owner of several bookstores, so marketing is also they should look through the titles.
5. What kind of impact would you like Black Ink to have in the current komiks industry?
In just a short span of time, we already have almost 20 titles that are now available in bookstores nationwide. This made a huge impact to comics community and publishers, because couple of interested publishers were already messaged me about Black Ink. They are just monitoring us and I could assure that in no time, more publishers will venture with komiks again.
The reason Black Ink was formed because the publisher wants to pursue the 'komiks line' independently instead of just a side project of Precious Hearts. He envisioned that more local komiks will be displayed, and have their own racks in all bookstores. Imagine romance pocketbooks when they were just starting in the 90s, you could only saw it being displayed in a small portion of a rack in bookstores, but visit National Bookstores now and you could see Filipino romance books with their own section with hundreds and hundreds of titles.
I also see Black Ink could become a blueprint for commercial and mainstream komiks that new publishers could study as well. You know, there are several publishers (and big as well) but PHR (Black Ink) was brave enought to give an all-out support to publish many komiks titles that other publishers cannot do at the moment.
JEFFREY MARCELINO ONG
1. Can you tell me something about yourself as a comic book creator? What were the highlights of your work in comics?
I started as a comics writer at the age of 16, that's way back 1992 in GASI. I applied as an illustrator; kaso sabi ng editor mas interesting daw ang script ko kesa sa drawing. So I decided to be a writer for good. For 2 years, I wrote hundreds of short stories; until one of my editors recommended me to Sir Ollie Roble Samaniego (GASI Editor-in Chief) to write a series entitled HARIBON, it's an environmental superhero themed concept. Then I was given another series, its LASTIKDOG (yup, ang alagang aso ni Lastikman). Haribon and Lastikdog both ran in the pages of Aliwan Komiks for 2 years, then I was given a break to write a novel. I created WOLFGANG a year before the two giant comics publishers collapsed.
Desperate to revive the local mainstream comics, me and my GASI friends (Galo Ador Jr., Ron Mendoza, Ronald Tabuzo, Arman Francisco, Lito Tanseco and Mars Alvir) tried to publish our own comics. We pushed too hard to produce DARK PAGES but we fell short. Then after several years, Black Ink Comics came to life…
2. How did you get involved in Black Ink, and what titles are you working on?
My good friend Ron Mendoza, a resident writer for Precious Pages asked me to join this project together with other Dark Pages creators. Black Ink Comics is a year in the making, we started with regular meetings and brainstorming with publisher Jun Matias and with Precious Pages co-owner Richard Reynante (who happens to be one of my bosses in ABS-CBN).
I was assigned to handle the 12-part-series HANDS OF THE DRAGON (illustrated by Gilbert Monsanto), then I proposed my very own concept KALASAG (illustrated by Meng Fabian). I have other titles that are still in the process of writing; THE RED JOURNAL (illustrated by Arnel Coronel) and ANG MASON (illustrated by HARVEY TOLIBAO).
3. How do you feel about the Precious Pages Corporation entering the local komiks industry in such a big way?
At first, parang nalula ako kasi malawak talaga ang plano ng publisher. Natakot na baka mag-fail kami. Off course, para sa isang comics creator na tulad ko na nasaksihan at bahagi pa ng "pagbagsak" ng local comics, nakaka-depress makaranas ng isa pang set back pagdating sa industriyang mahal na mahal natin.
But I proved myself wrong nang nagpatuloy lang kami sa pagbuo ng mga comics kahit inabot pa ng isang taon bago mailabas. I really admire our publisher's passion to make this project into reality, grabe ang enthusiasm niya, nakakahawa. Kaya naman kaming mga creators ay hindi rin nag-give up. Ang nakaka-bilib, hindi lang sampung titles ang binuo naming. Marami, as in. So in the future, marami pang aabangan ang mga comics lover. We hope na makapag-inspire ito sa mga komikero, lalo na sa mga indie creators. We're actually hunting talents na puwede sa Black Ink. Ilan na sa kanila ang nakausap ko at patuloy na ini-encourage na mag-drawing sa Black Ink. I am very enthusiastic na magtutuloy-tuloy ito and hoping na makatulong nang husto para mapasigla pa ang komiks ng mga Pinoy.
4. Did you get a directive from the editors/publishers about the kind of stories that you can write? Or were you free to write any story that you liked? Any limitations?
May mga concepts ang publishers–specially Sir Richard Reynante–na ini-a-assign sa'min. We're also allowed to pitch our own concept. Dini-discuss namin ang lahat sa regular meeting, binubusisi. Gusto talaga naming makapagbigay ng mga bagong putahe sa mga readers. We are free to write about anything, self-censorship na lang, malinaw naman sa amin ang mga limitations like religion biases, extremely graphic content saka explicit languages. Subject for approval naman ang lahat ng script, anyway.
5. What kind of impact would you like Black Ink to have in the current komiks industry?
We're very happy with the success of the indie comics industry, bilang isa sa mga bahagi ng natulog na "bangketa komiks" ay nakakatuwang tingnan ang mga mga bagong mukha na very passionate sa paglikha ng komiks. Very heartwarming din ang nakikitang pagsuporta ng mga beterano lalo na kapag may mga KOMIKON events. Black Ink Comics is a team of veteran comics creators, we're here to inspire the new generation, to give our full support to the independents, to pull their hands to also experience mainstream…and to encourage them to continue with their independent titles.
Black Ink Comics is here to stay…for all the Komikeros!
BLANK INK EDITORIAL c/o Melanie Esguerra
1. Precious Pages is well known for publishing "Precious Hearts Romances," a very popular and very successful line of Tagalog romance pocketbooks. What made them decide to enter comics, which admittedly can be a very risky business nowadays for big publishers?
Precious Pages Corporation has been involved in the field of promoting reading advocacy for over twenty years. It does not only publish Tagalog romance novels. It also publishes children's books, cookbooks, licensed graphic novels, and puzzles. It is not really a big decision for the company to join the comics industry. We noticed the numerous attempts of other publishers and self-published authors and illustrators to revive the comics industry, so, why not take part in it?
Twenty-two years ago, the publisher (Segundo Matias, Jr.) also took risk in publishing Tagalog romance novels with more than twenty other publishers as competitors, so why not publish something that he had loved and missed so much. After all, he belongs to the generation of the golden age of komiks and it saddened him when komiks gradually disappeared from the newsstands.
2. Black Ink presents a departure from the traditional format of mainsteam Pinoy komiks of anthologies with different writers and artists in one issue. You decided to use a more compact format, which may be considered as the graphic novel format with a single team of creators for either one book or series of books. What made you decide to use this format?
We did not intend to use a specific format. It just so happened that the first releases were in the graphic novel format. Our concern is more on the content.
3. What were your considerations in choosing the writers and artists for your books?
As long as the story—be it short, serialized, or a sixty-page novel—is worth publishing, from a new or veteran comic's writers, then Black Ink will publish it. With regards to the illustrators, we believe that Filipinos are good comic's illustrators so we welcome illustrators who are willing to work for us and find an outlet for their talents. The illustrators come to us based on recommendations; others answer our announcements. Once we give a project to an illustrator, they have to give studies of the characters in the approved stories for approval.
4. Is there a preference for any specific genre or stories or do you allow your creators to explore any genre they wish be it fantasy, sci fi, drama, crime, etc?
Black Ink wishes to present stories in a wide variety of genres, including romance, horror, superheroes, fantasy, comedy, fairy tales, historical, adventure, etc.
5. What do you hope the impact of Black Ink will have in the current komiks industry?
We are aware how the industry decades ago are different from the industry today, yet we still hope to make a contribution, in our own way, to help revive the industry. But Black Ink cannot do it alone. It is a collective effort.
For some reason, I'm more invested now in elections than I ever was before. It's probably because I am older, and I can see the big picture more clearly. And from this vantage point, I can see and understand just how powerful our vote is in determining our fate and our future in this country.
During the course of the last couple of years I was driven into rage whenever I hear questionable laws that come to pass, laws like the deeply flawed and abusive Anti Cybercrime Law of 2012. They came to pass because Senators and Congressmen made it happen. And who was responsible for putting those people there? US. It was US. That was just one in the many such incidents that made me think about who to vote for in the upcoming elections.
As an artist, an abusive and oppressive law like the Anti Crime Law is something I'm deeply invested in. It's an issue I care about because of the work I do. So, you senators who have authored and supported this Anti CyberCrime law, don't think I have forgotten you. Your names are listed in many sites online and are easy to remember. I will not be voting for you.
YOU however, whoever you are reading this, you would have to learn what issues you care about, and it is your responsibility to find out which senators support or don't support your issues, and vote accordingly. Just google it, you know? A lot of information can be found online on what issues these people stand for.
As for me, as I mentioned, I am always against any law that suppresses my freedom and my rights as an artist. That encompasses a lot of different laws including the Intellectual Property Law, which a lot of political hopefuls in the coming election so gleefully violate with their illegally used music for their campaign jingles. If you have used music illegally to prop up your own campaign, I WILL NOT VOTE FOR YOU. Using music by artists like Psy or Adele or Village People may seem to you like it's not a big deal, but that is a violation of the intellectual property rights of an artist.
What is intellectual property? They are simply ideas. As artists, we can came up with ideas that will benefit us as individuals. These are ideas that non-artists would be unable to or would have difficulty to come up with. That's because it comes from our talent, and the years of hard work developing that talent. If you use those ideas without our permission and without compensation, you are practically stealing money from us. That's the simplest way I can put it. It's like you came up to me and grabbed my wallet.
These candidates using the music of Psy, Adele, Village People etc…? These candidates are grabbing these artists' wallets. And to me, and according to the law, this is a CRIME.
The COMELEC also released a set of guidelines that candidates must follow. A lot of these are pretty simple. Candidates have an allowed period of time when they can campaign, and they aren't allowed to post campaign posters on trees, electric posts, overpasses, etc. But we all know almost all candidates have violated this. That made my job of selecting my choices much easier because if you violated those COMELEC guidelines, again, I WILL NOT VOTE FOR YOU. You are a lawbreaker and to me that makes you a criminal. I don't vote for criminals.
On a more personal note, I am for gay marriage rights, and I am for The Reproductive Health Bill. Any sentatoriable who opposes those will not get my vote. It's really as simple as that.
But as I said, please remember that this is purely a personal issue. You vote for whoever you want, just as long as you really thought about it, and you feel that these people will support the issues that you support.
However…
DO NOT vote simply because you think their smile is pretty, or they look nice, or they were a popular actor once, or they come from a political family and their name is familiar to you, or they refuse to debate publicly or if your parents told you. You know any decision based on that would be pretty stupid. And yes, you would be pretty stupid to vote simply based on that.
Here's a couple of videos where Johnny Danganan and I eleborate more on our favorite issues:
THere you go! Use your vote wisely guys! Our future is in our hands!
Veteran and pioneer Filipino Komiks illustrator Jesse Santos passed away last Aoril 27, 2013 according to his grandson Geoffrey De Vera. He passed away just shy of 84 at his residence in San Fernando Valley in California.
Jesse began working in comics for the very first Philippine serialized comic book "Halakhak" in 1946 on a title called "Kidlat". It was his the start of a collaboration with Damy Velasquez which would continue on the popular series "DI-13″ which lasted many years.
Moving to the US in the late 60′s, Jesse found success drawing comics such as Dagar, Doctor Spektor and Tragg. He was also a very successful portrait artist, depicting popular popular political figures and celebrities.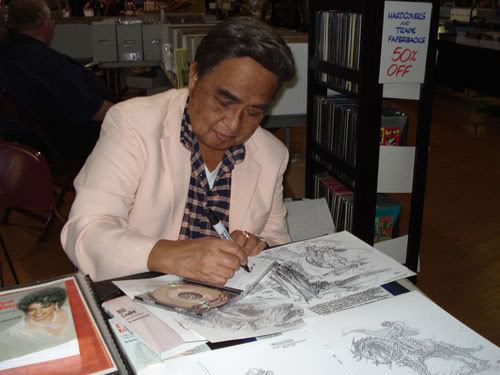 Jesse Santos Art Gallery
http://alanguilan.com/museum/jessesantos.html
Jesse Santos Photos
http://gerry.alanguilan.com/archives/494

My favorite Jesse Santos photo.
Blown away by how many people showed up at Comic Odyssey and Fully Booked's Free Comic Book Day celebration at Bonifacio High Street! I arrived around 8:30am and there was already a huge line snaking around the Fully Booked building. I'm told by pal Johnny Danganan that the earliest people in line were actually there as early as 5:00am. Amazing.
Check out this video by fellow artist Jon Zamar, showing the opening of the Fully Booked doors to let FCBD customers in!
What's pleasantly surprising is the amount of really young kids that showed up. I figure they were anywhere between 5 and 10 years old, boys and girls. It's so nice being part of something that helps nurture more new readers into comics! I think comics should be part of young children's lives, as it has been a large part of mine. My comic book experience as a child is one of the best memories I've had growing up, and it's something I wish a lot more children would have.
I'm very happy at being asked to do the cover to this year's FCBD comic book. For those curious, that's actually an image from The Marvelous Adventures of the Amazing Doctor Rizal. I wish I could have asked them to indicate it in the credits page, but nevertheless, this is the first image ever of this project to see print and publication. It's actually an interior page that I've since scrapped, but I thought I could re-purpose it for this cover.
That's Johnny and me, who forgot to take his glasses off when the photo was taken. I usually need reading glasses now to draw and write, but I can still see fine people in front of me. It's helpful having glasses because my eyesight is clear again, but not having glasses my entire life, I'm just not used to it. It can get frustrating at times. Well, who am I to talk, when people I know have been wearing them all their life, and can't take them off or they'll be practically blind.
I took the opportunity to do a quick "Kwentong Tambay" video with Johnny on the subject of Free Comic Book Day!
That's Edgar Tadeo in the foreground drawing Weapon X on a blank cover, which is kind of a thing now. Publishers Marvel and DC actually do publish comic books that are blank. Yes, there's nothing on them, so that artists can draw on them. It's actually kind of a really cool idea. Other guys doing the drawings in the pic are (from right), Kai Castillo (Patintero), Aaron Felizmenio (Gwapoman 2000) and Wan Mañanita (Ang Morion).
Aside from the Kwentong Tambay video, I also did another FCBD video, one of the quick ones I've come to like doing recently. I think it presents a portion of my Free Comic Book Day experience concisely and quickly.
Breaking for lunch at 11:45 am, I was amazed to see that the line still snaked around the building, which made me feel bad for the guys and girls on the line because these summer days lately have been absolute murder. I think they must have cut the line soon after because Sandy of Comic Odyssey reports that all the free comics have gone by noon. I wish everyone had a chance to get their free comics.
I'm pretty impressed by FCBD and how it is celebrated in the Philippines has grown into really full scale events that rival almost the Komikon events. Sandy tells me they must have given out at least 10,000 free comics, and that's really mind boggling. Add the success of this Comic Odyssey/Fully Booked event and the concurrent FCBD festivities held by National Book Store/Comicxhub at NBS Quezon Avenue, it really may well be as big as Komikon, which is saying something. By all indications, FCBD next year will be even bigger. And I think that's exciting!
I can't get over how huge FCBD was over here. Check out this really nice video by the Frances Luna III Illustration Firm which shows the crowds and the kind of people that showed up.
Another great and fun video from Fully Booked!
COVERAGE:
FCBD 2013: Long lines and love for comics
http://www.rappler.com/life-and-style/28434-free-comic-book-day-2013-love-comics
I AM A HAPPY DORK
http://isaw08.wordpress.com/2013/05/07/i-am-a-happy-dork/
Free Comic Book Day Photo Gallery by Fully Booked
https://www.facebook.com/media/set/?set=a.10151354100981436.1073741829.88599481435&type=1
*******************
I've already got several articles lined up for this blog, including one big write up of Black Ink Comics, as well as an opinion piece on the evolution of the Philippine komiks indie. Stay tuned!
After Summer Komikon, it's FREE COMIC BOOK DAY (FCBD) on May 4! Just as the title of the event says, if you attend this event, you'll get FREE comics! Specially if you come early. And just like Komikon, FCBD in the Philippines has slowly become bigger and bigger.
As far as I know, there are at least two large events that celebrates FCBD in Manila. One is by Comic Odyssey/Fully Booked, and the other is by National Book Store/Castle Geek/Neutral Grounds. It's kind of put me in a pickle because I have loyalty to both Comic Odyssey and National Book Store (who publishes ELMER 2nd Edition). But I made my first commitment to Comic Odyssey and so there I will be.
Above is the my Amazing Doctor RizaL cover art to Comic Odyssey's FCBD comic book giveway, which features short stories from many local comic book creators like Ed Tadeo, Aaron Felizmenio, JP Palabon, Freely Abrigo, Manix Abrera, Macoy, Melvin Calingo, Michael David, Omeng Estanislao, Joanah Tinio-Calingo and many more. It will also feature a 2 page "Story of Wasted" short from me.
This event happens at Fully Booked in Bonifacio High Street and begins at 10am. I'll probably be around there sometime after lunch to sign you comic books.
Comic Odyssey/Fully Booked FCBD Facebook Event Page
http://www.facebook.com/events/428017033941625/?fref=ts
Some of you might be worried about the accessibility of Comic Odyssey at Fully Booked, Bonifacio High Street. It was my concern to for a long time but FEAR NOT! Below is a graphic that will explain how to easily get to the venue from EDSA if you're commuting. I myself was surprised at how easy it was.
A quick note about sketches. I apologize if I decline doing any sketches at events. In spite of the fact that I work for Marvel or DC, I find it hard sketching in front of people these Marvel and DC characters. I feel self conscious and It actually takes a lot from me. Here at home, I can't do it as well because I'm too busy working on my own stuff. However, if you ask me to do quick sketches of my own characters from Elmer or Wasted, I'll gladly do that. It's easier because I know these characters very well. And as a creator, it makes me feel good because you're asking me to draw something I created, and not something created by others.
In the future, I'll probably start accepting commissions (my characters and others) when I've organized my time enough to accommodate them. I'll talk about it here on this blog when the time comes.
Above is the comic book giveaway (Artwork by Carlo Vergara) from the other event by National Book Store/ Castle Geek and Neutral Grounds, in an event that's called "Free Comic Book Day: Setting The Record". It's called "Setting the Record" because the event hopes to set the most number of sketches on a blank cover comic. A bunch of my other friends will be at this event including Jonas Diego, Budjette Tan, Lui Antonio, etc.
Their giveaway comic book also includes a page from me where I revisit "Gerry's Believe It Or Else!".
This happens at the Quezon Avenue branch of National Book Store in Quezon City, and it begins at 9:00am.
National Book Store/Castle Geek/Netural Grounds FBD Event Page
http://www.facebook.com/events/326436887455830/?group_id=0
To comic book fans, this is quite a big day, and you don't even have to be conflicted. Since both these events happen during the course of an entire day, you can attend one and then attend the other later in the day. Problem solved!
The Cebu Comicon is going to be on August 16-17 at the J Centere Mall, Fortuna St, Bakilid in Mandaue, Cebu City. Although I would very much like to attend this one (I was there for the first one in 2010), I would be unable to attend this time around.
However, my newly republished comic book WASTED would be there c/o of old pal JONAS DIEGO. Right now I still don't know how many copies to send, so if you're in Cebu, and you will be attending this convention, please let me know in the comments if you want a copy!
Cebu Comicon Facebook Event Page
http://www.facebook.com/events/133221910198617/
Ever since I was really small, there was only one superpower I ever wanted. I wanted to fly. I've always been fascinated by the sky. As a kid I dreamed that when I rode a plane, I'd take a paper bag with me so I can capture some clouds that I can bring home and play with.
Even as I grew older I always imagined what it would be like to just take off, watch the ground recede, and join the clouds. I'd watch thunderstorms, touch the top of mountains and watch cities from hundreds of feet up in the sky.
My dreams are filled with attempts to fly. Often failing, sometimes succeeding. And when I did fly, it felt incredible.
Now that I'm 45, my dreams have changed. I realized how selfish I had been. To have the opportunity to wish for a superpower, I always wished for this thing that benefited only me and no one else. I felt kind of ashamed. It is so often said in the superhero world, in fact it is the superhero world's biggest cliche: Great Power Comes With Great Responsibility. But it's true. It's very true. If you have the power to change things, you have the responsibility to use it well.
The experiences I've had in my life led me to wish for a superpower that I want now more desperately than I ever wanted flying.
I want the power to heal.
I want to be able to heal the sick. I want to heal people with cancer, with Aids, with the cold, with brain damage, with organ damage, those who suffered strokes and heart attacks and ulcers. I want to ease their suffering and make them feel good again.
I have seen people suffer. I have seen how debilitating illness can be, and how it wreaks havoc on a person's body and spirit. It strikes bad people as well as good people. And if it strikes the good people and the innocent people, it's even more heartbreaking.
And you're sitting there and there is nothing you can do to help.
I swear, if I ever have to sacrifice whatever talent I have in writing and drawing, I'll gladly exchange all that right now just so I can have the ability to heal.
That is the superpower I want.

Click for Larger Image. Photo by Skyworld.
"Insane" is such an overused word to describe Komikon. I used that word a lot. But I'm honestly at a loss to use any other word to perfectly describe it. Well, perhaps "INSANER" would be apt. Because that's just how it was. This thing just keeps getting bigger and bigger. They've had to use up space that was used for circulation and navigation at past conventions to give space for more exhibitors. And it still wasn't enough. I swear, if Manila had rules for crowd control as SDCC, they'd have shut the event down. I make no exaggeration when I say it was THAT huge.
As a backgrounder for those tuning in just now. "Komikon" was started in 2005, and was held usually during October or November. Over the next few years, the event had gotten so popular that the organizers added a "Summer Komikon" during the months of April or May. The events have gotten even more popular that a third event was spun off by the organizers called "Indieket", which happens around June or July. These are the biggest three days of the year for the new Philippine komiks. The event yesterday was the FIFTH Summer Komikon.
Because of the popularity of such events, local comic book creators take this opportunity to launch and sell new (and older) titles. I was no exception. I had decided to launch the WASTED reprint during this event, knowing many of those asking me for copies for years would be present. Ever since Komikon and Summer Komikon began, people have approached me about getting print copies of this almost 20 year old out of print book.
I was completely amazed by the reception Wasted has gotten. All in all, I have sold around 350 copies at the event, which is kind of a record for me. I would usually sell 100-200 copies of a new title (like Elmer) at past Komikons. I tried my best to show my appreciation by sketching on every copy along with an autograph. I took longer than I usually would on one book that a long line formed, which kind of a new thing for me. I usually see that thing only with Manix Abrera.
Because I had to finish inking an issue of Avengers before Komikon, I stayed up all night the night before. I only had less than an hour of sleep before we had to push ahead to Komikon. I think must have looked like a mess. Apologies to everyone who might have thought was kind of "off". Well I was a bit off, but tried my best to be as cheerful as I possibly could.
Because I was so busy at my table, I did not have the opportunity to go around and actually buy the awesome new comics that these indie guys have produced. Copies did manage to find their way to me anyway, which was great. Thanks to all those who gave me comics. You didn't have to, but I want to thank you nevertheless. I would have bought them if only I had the time. However, I do have to mention this dude who had this really uncool way of selling me his comic book. Really uncool. I'll say no more about that.
I was looking forward to a few titles that I knew were coming out and one of these was Robert Magnuson's "Kuting Magiting".
As soon as Robert handed me a copy of the comic book before the convention doors opened, me and Ilyn shut everything off and just read it right away. Very soon we were laughing our heads off. It's a wonderful, wonderful comic book. Robert's storytelling skills are just absolutely brilliant. This is probably my favorite comic book of Summer Komikon, perhaps my favorite comic book of 2013 so far!
Here's a Kuting Magiting video trailer:
At the end of the video, it looks like this comic book will be published by Toddler Books from Hiyas. Here's hoping it's in full color. Because if there's one thing that would bring this piece of work even closer to perfection, that would be color. Congrats to Robert, and great job!
Since we're on the subject of trailers, a trailer to a short film adaptation of Macoy Tang's "Ang Maskot" was shown at the convention. Oh man… I love it already. And then Ramon Bautista steps in. Wala na, this thing is on critical mass.
Other comic books I got at the event:
I'll probably do a review of some of these, specially those who actually asked me for a review. You're sure about that right? I tend to be very honest when I do reviews. Hang on for that. They would be coming in the next few days.
I barely looked up from signing during most of the convention. But something happened during the late afternoon that stopped me in my tracks, made me stand up and watch what was going on atop the stage. Omeng Estanislao was there (I talked plenty about Omeng here on this blog) saying something on the mic. His girlfriend Ails Casis (who is also a cartoonist) was there as well. "PURE" by Lightning Seeds was playing and I'm thinking what the hell was going on. And then THIS happened.
OH MY GOD. For reals? Thunderous cheering followed. This practically stopped everything. It was quite a spectacular sight to see. I have to admit, I got teary eyed. I'm so happy for Omeng and Ails. Of course Ails said YES. This is a first for Komikon! This will go down as something people will never forget. Ikaw na, Omeng! Ikaw na!! :)
Of course I caught it on video! Check out my short Summer Komikon 2013 video:
I must take a moment to thank the Komikon organizers for such a successful event. Not just this particular Summer Komikon, but KOMIKON in general. They've been doing this for years and they now function like a super efficient well oiled machine. Thank you very much to all of you: Sherry Baet Zamar, Jon Zamar, Lyndon Gregorio, Lei Muncal, and Ariel Atienza (have I missed anybody?). You guys are AWESOME.
They keep on thinking up new ways to make each event bigger than the last. In the last few Komikons they've been releasing the Komikon newspaper along with a catalog of all new available titles:
As if the three Manila Komikon events aren't enough, they've been helping out with regional comics conventions as well. As far as I know they had a hand in organizing the "Sirko ng Komiks: The First Komikon Baguio Komiks Convention". They even sent a delegation (including ME) to the Singapore Toys, Games and Comics Convention (STGCC). In the Komikon newspaper I wrote a long article of my Singapore experience with Komikon, and I want to reiterate here that I'm truly amazed at this group's undying love for Philippine Komiks and their efforts to promote it not only here in the Philippines, but abroad. My hat's off to you guys. If I wore hats that is.
Johnny Danganan and the Komikero Artists group held another fund raising auction for the benefit of the Lapis at Papel Charity, which seeks to provide impoverished school children in the Philippines which much needed school supplies. At the Komikero table was Leinil Francis Yu, who graciously donated time and an awesome Wolverine sketch done on the spot, to help raise funds for the auction.

Photo by Jonas Diego. Leinil Yu sketches.
Many other artists donated artwork to be auctioned off including Ed Tadeo, Dan R. Borgonos, Jethro Morales, Gerry Alanguilan, Leinil Francis Yu, Visconde Carlo Vergara, Manix Abrera, Lui Antonio, Jomar Bulda, Stephen Jorge Espino Segovia, etc. At the end of the day we were able to raise at least 20 thousand pesos for charity! That's pretty awesome. Thanks to everyone who donated art as well as all those who helped support the auction by bidding and buying.
Here are a few more photos from the Summer Komikon 2013:

Robert Magnuson and Emil Flores.

JB Gamboa and the Hey, Baby! guy.

Photo by Jonas Diego. Someone wanted to buy the photo.
Oh yeah! Before I forget… something else earth shattering happened during the event! Something so unbelievable that I'm still reeling from it. To be honest, I still don't believe it. EDGAR TADEO HAD A HAIRCUT.
After 15 years of having that long hair, he finally decided to cut it all off! I actually almost failed to recognize him. I thought he was just some lookalike. It really all began back at Whilce Portacio's Starfire Studios around 1996. Three of us had really long hair: Gilbert Monsanto, Leinil Francis Yu and myself. Ed got into the act himself. Very soon Gilbert, Leinil and I decided to cut it all off, but Ed kept his. He kept it for the next 15 years. So yeah, seeing Ed yesterday without his trademark supercurly locks… that really was a big deal.

Photo by Danry Ocampo. Pals from Davao: Jad Montenegro and John Amor.

Photo by Jon Zamar. Komikon organizers and volunteers.
MORE PHOTOS AND COVERAGE:

Komikon 2013 Video from Pinoy Tekkie
I Got Wasted at Summer Komikon by Sreaming Mango.
http://screamingmango.wordpress.com/2013/04/14/i-got-wasted-at-the-summer-komikon-2013/
Splurge on Local Titles at Komikon 2013 by Edgar Samar
http://edgarsamar.com/2013/04/14/splurge-on-local-titles-at-komikon-2013/
IN PHOTOS: Summer Komikon 2013 – Jerald Uy/Rappler
http://www.rappler.com/life-and-style/26168-in-photos-summer-komikon-2013
Pinsel Project at Summer Komikon
http://lariz19.wordpress.com/tag/summer-komikon-2013/
Happy Fun Time in Summer Komikon 2013 by Chris Kaw
http://www.chriskaw.com/2013/04/happy-fun-time-in-summer-komikon-2013.html
Summer Komikon 2013 by Arman T. Francisco
http://arman-komixpage.blogspot.com/2013/04/summer-komikon-2013.html
Summer Komikon 2013, Point of Decision by Macoy Tang
http://mcoy.blogspot.com/2013/04/summer-komikon-2013-point-of-decision.html
Gallery of Komikon 2013 photos from Instagram
http://statigr.am/tag/komikon2013
My Wife Is Pregnant Comics at Summer Komikon 2013
http://mywifeispregnantcomics.blogspot.com/2013/04/my-wife-is-pregnant-comics-at-summer.html
Why Summer Komikon 2013 was a blast
http://www.rappler.com/life-and-style/26599-summer-komikon-2013-a-blast
Comics, costumes, crowds: Summer Komikon
http://www.rappler.com/life-and-style/26609-comics-costumes-crowds-summer-komikon-2013
Summer Komikom 2013 Recap by The Raving Asgardian
http://ravingasgardian.blogspot.com/2013/04/summer-komikon-2013-recap.html
Post Event Report: Summer Komikon 2013 – Reimaru Files
http://reimarufiles.com/2013/04/15/summer-komikon-2013/
Un-Newbie-d (The Real Komikon Experience) By J.Gi Federizo
http://jgifederizo.wordpress.com/2013/04/24/new-summer-komikon-experience/
Public Facebook Galleries
http://www.facebook.com/media/set/?set=a.10200557815803949.1073741831.1115303594&type=1
From Jad Montenegro
Summer Komikon Scenes
http://www.facebook.com/media/set/?set=a.10151331001812273.1073741834.702462272&type=3
Summer Komikon Crowd
http://www.facebook.com/media/set/?set=a.10151330411067273.1073741831.702462272&type=3
From Jonas Diego
Summer Komikon 2013
http://www.facebook.com/media/set/?set=a.10151380704646149.1073741826.675871148&type=3
From Jon Zamar
04.13.2013: Summer Komikon 2013
https://www.facebook.com/media/set/?set=a.595390270472044.1073741826.160302177314191&type=1
By Mark Cerbo
The Wedding Proposal Picture Gallery
https://www.facebook.com/media/set/?set=a.10201023746065330.1073741837.1517788371&type=1
By Rommel "Omeng" Estanislao
This Saturday is Summer Komikon 2013. By all indications, the biggest Summer Komikon so far. This is based on the amount of new releases, and the increased amount of exhibitor space that can be seen on the map. They're also starting to regularly feature foreign creators as guests! I can already tell that the Bayanihan Center has grown a little too small for this event. This time around the convention has a "Komiks are For Kids, Too!" theme, and many of the releases and activities reflect this. Check out the things one can expect at this event!
Not really for kids, but Komikero Publishing will be coming out with a new printing of WASTED. I talk more about it here. I will also be selling a few pieces of original inked artwork from the various Marvel books that I've worked on over the past few years.
Wasted is being being published by me, so it's very much a return to the roots of Wasted as a self published, independently produced title. ELMER is still with National Book Store so copies can still be bought at their booth at the convention. However, I will also be bringing a few SLG Editions of Elmer for sale.
I'm very excited for this particular convention because this is the first time since 2009 that I have a new book to release. The period between 2009 and 2013 have both been horrible and amazing at the same time. I can probably safely say that I will continue to produce new material and will have something new at the Komikon at the end of the year, at Summer Komikon 2014 and at Komikon 2014. Time is short. I have to get these stories out there!
How to get to the Bayanihan Center.
There are quite a few new titles that I'm looking forward to, specially Robert Magnuson's "Kuting Magiting".
I've been an advocate of Robert's comic book work for a while. I'm so glad to see him finally release this title, which I know he had been working on for many many years now.
I'm also looking forward to the many compiled collections of previously released indies. There has been a rise in these collected print editions over the past couple of conventions, which for some reason really just makes me happy. I've been trying to buy as much of these as I can, and there are plenty coming out at this convention.
Oh yeah, as always, Omeng Estanislao hits us with his awesome Komikon cartoon.

Click for Larger Image
See you there, guys!
Not an April Fool's Gag. This is really happening. See you at Summer Komikon! :)
Wasted will finally see a reprint this year and will launch at the Summer Komikon on April 13, 2013!
For many years Wasted has been available completely for free to read online in various formats here. But I've got numerous requests, almost on a daily basis, to bring back Wasted in print. Which is just fine by me because I just love printed comics, and I would love nothing but to see Wasted in print again.
One of the big reasons why I hesitated to have a reprint is because I'm unhappy with the artwork I did on this book. I attempted to redraw everything, going as far as drawing one page, but it seemed wrong somehow. It didn't feel honest and sincere. I feel I have to let the original work stand on its own, flaws and all. That's the only way I can keep the spirit of the book intact.
Another major stumbling block was that all the original artwork for Wasted was burned when the offices of Pulp Magazine burned down around 2003. All the originals were with them because they published the 2nd Edition of book around that time.
I thought if ever Wasted came back in print, I would have to scan the artwork from the printed comics, which isn't really ideal. But I've really got no choice. I will be returning to the look and feel of the original Alamat printing from 1998 with the black and red cover, but with slight differences. I will be including no new material and no pinups by other artists. All supplemental materials will be Wasted artwork that I did during the time of the original run which appeared in ads and other editions.
I will also be including the 6-page short story "Wasted: Confession", which appeared in a 2009 issue of Komikero Komiks Anthology.
There is no retail price as of now. I'll probably know during the day of the Komikon itself. I'll be at the convention all day, and don't worry guys, I'll bring enough copies!
See you there!
People can't help but want to control how other people live their lives.
That's it. Think very hard about that. It pretty much applies to every conflict, prejudice, bigotry and hate. It applies to everyone of every belief (and non-belief) be it religious or political. People just can't help but want to control what others believe, what others want, and how others behave. When it comes down to it, it doesn't really affect their lives and it's really none of their fucking business.
Let me give you a bunch of examples.
Homosexuality.
Early in my life I was a homophobe. I just couldn't wrap my head around the idea of two men (or two women) being together and even get married. I mean, how are they going to have kids? They're not biologically fit to procreate together. I thought it was wrong.
What made me feel that way? It was me wanting to control how gay people lived their lives. And for what reason? Because it offended my religious beliefs? Because it offended my sense of decency and morality? And that gave me the right to butt in their lives and dictate to them how they should they live and how they should behave? It's really none of my business. Their life is not my life. What right and what business do I have to control them? None at all. NONE. AT. ALL. I don't have that right. YOU don't have that right.
Another example.
Atheism and Religion.
I believe in God. Although I'm a Catholic, I've recently become disappointed with it because of the actions of many of its representatives. I still believe in God strongly, of course. What I think of religion and God are two different things. Because God and religion ARE two different things.
Religions have been notorious in wanting to control how other people behave. This is the root of a lot of hate, and a lot heinous acts of violence have been perpetrated all in the name of God and religion. You know what I'm talking about. Fanatics have been known to stone and even kill those who don't live up to their moral standards, those who don't believe, and those who would even dare to insult them. I am ashamed and embarrassed that people who are supposed to believe in God and peace clearly believe the opposite. This is the absolute extreme of that urge to control how other people live their lives.
On the other end of the spectrum, many Atheists have also been guilty of wanting to control what other people believe. I see too many atheist posts on Facebook and Twitter ridiculing people of belief in general, casting aspersions on the believers' level of intelligence, as if all people of belief are one and the same. They too want to control everyone and want people to let go of their beliefs and be atheists like them.
To the religious and the atheists I say this…. what business is it of yours what other people believe? It's perfectly alright to pay notice to atrocities and condemn them, but to actively attack faith itself (and non faith) is nothing less than intolerant.
It is not religion that kills people, it is people with twisted views on God that kills people.
Religion, like any set of beliefs, including even atheism…. even political systems like democracy and communism, they're simply tools by which people get by this world. None of them are inherently evil. Yes, I said it. NONE OF THEM ARE INHERENTLY EVIL.
It is humans and their inherent flaws that can either make these tools help the world or destroy it.
Religion can be a force for good and unfortunately, it can also be used as a force for evil. But it's not religion's fault. It's man's fault. Because as I said, man is inherently flawed and easily corruptible.
What does it matter to atheists anyway if other people have beliefs? Not all believers are war mongering, immorality condemning killers and zealots. Those are just the fanatics. By all means condemn the fanatics! Most religious people I know just want to be left alone to believe what they want to believe. That includes me.
A few atheists in the past have tried to convince me to let go of God because they feel it's only a crutch. That I'm essentially a weak person because I need something to lean on in order to survive. I mean, what business is it of yours how I get by in life? If you truly don't believe in a God, then WHAT I am leaning on? God? But you said God doesn't exist, so I ask again, WHAT am I leaning on? As far as you're concerned and based on your own beliefs, I'm actually leaning on nothing. Then by all intents and purposes, I'm leaning on myself. So what's the problem here?
As long as people get by, as long as people do good things and are kind to others, what business is it of ours what they believe? What business is it of ours how people get by in life? Nothing. NOTHING. AT. ALL.
What is my point? My point is, the next time you post something that insults people's beliefs (or non belief), think about what your'e doing. All you are doing is trying to control other people because their way of life and their system of beliefs is personally offensive to you. When it's really none of your business.
Another example.
ART.
Oh yeah. ART.
As an artist I'm well aware of the issues that come with expressing oneself artistically in a country as conservative as this. I still remember the Anti-Obscenity Law that Senator Manny Villar tried to pass in the Senate a few years back. It sought to control what material adults are fit to see, read and hear. The most damning section of it was that nudity was not allowed "regardless of the intent of the author".
Because what? Because he believed that if Filipinos see boobies they will go out and start raping women? Because for whatever reason, he thinks it's personally offensive to him to see boobies and he wants to cover all our eyes so we won't see them as well?
I'm not a child. I'm a thinking mature individual with a strong sense of personal morality. I don't need old men with delusions of power wanting to control what I see, hear and read.
What I do, read, watch and listen to in the privacy of my own home is none of any senator's business.
I can probably cite more examples, but you get the idea. I've thought long and hard about my own part in this, and why I felt the way I did. It came as quite as shock to me how much I had wanted to control other people when I had no business to. I cannot impose my own set of beliefs and morality on other people. I just can't. And nobody should too.
To fund a few upcoming projects, including one that would hopefully come out at Summer Komikon next month, I'm letting go a few original inked pages from AVX VS, Avenging Spider-man, Ultimate Avengers, Superior and Supercrooks.
If you're interested please email me at gerryalanguilan at yahoo dot com if you wish to see the list.
Sorry to say, these pages that can be bought from me directly are available only to buyers in the Philippines.
For those interested abroad, please get in touch with my agent Kirk Dilbeck who has a gallery of a lot of my inked original art at ComicArtFans. I will also be sending him a batch of new artwork shortly.
Nowadays it's only natural to see multiple page previews of comics coming out in two or three (or eve more) months. You know what the covers and what the first few pages would look like way in advance.
In the 80′s during the height of my comic book fandom, we did get to see a cover here or there in advance, but sometimes they would be small and not so easy to see. More often than not, I find myself seeing the cover for the first time as I picked up my subscriptions from the store. And as for what's inside, I have absolutely no idea.
And you know what, it made comic book reading much more fun and exciting for me. It was fun because it's so thrilling seeing the cover for the first time as you walk into the store. And back home, you're being treated to something you have never seen before. It's all new.
Today, a lot of that thrill is gone. You already know what the cover looks like. You've already seen the art and know what happens in the first 4-6 pages. Preview pages come so well in advance that by the time the actual comic book comes out, it all seems already OLD. Where's the fun in that?
What has changed in the last 20 years that made multiple page previews essential to enjoying comics today? What happened in the last 20 years that made people decide to do away with the mystery?
What have I been up to? Well, speaking for today at least, I'm recovering from this disgustingly hideous fucking boil that's decided to erupt on my butt. Now that may seem funny to you, but it isn't. It really isn't. Since I spend a lot of my time sitting down writing and drawing, taking a seat these past few days have just been absolute and sheer murder. As in I could murder somebody. And it wasn't just a boil. At its prime, it also brought me fever and high blood pressure. Thankfully, it rendered me flat on my back where I didn't have to put pressure on the damned thing.
As always, there's no need for medical advice from random Internet people. I already went to a doctor who is well, kind of an expert on stuff like health. If I seem a little cranky… WHO WOULDN'T BE? Holy crap. It's still murder sitting down, but now I can at least manage it. And manage to finally get back to work again.
Ah yes, work. As always, there is the Marvel thing. Working on a new book after Indestructible Hulk! Can't talk about it yet, but it's got a lot of well, really ugly creatures in it.
But as for personal projects, I'm finally getting a few things off the ground. Sorry, I've decided to set aside Rizal for a while. I went through a sort of creative crisis during the creation of that, and it was just too much pressure.
What I have going are a few stories that I am writing that other artists are drawing.
On the front burner is a project that was supposed to be mine and Arlan Esmeña's follow-up to "Where Bold Stars Go To Die", which is an all ages, full color Pinoy fantasy tale called "Rodski Patotski: Ang Dalagang Baby". It was a project that would be an homage to all those fantastic and fun classic Pinoy komiks characters. With Arlan having passed away, the project was put on indefinite hold.
A couple of years later, I worked with Arnold Arre on Darna Lives! (read it here), an online fan fic that was incredibly fun to do. It also reminded me of the terrific experience I had working with Arnold on Lastikman a few years back. I wanted to work with him again, but I didn't want us to work on giving further life to the creations of others. I wanted us to work on giving life to something that we would both create. A character that we could call OURS.
I proposed Rodski to Arnold and I was so glad that he accepted. Insanely fast, Arnold has already given me the first few full colored pages and oh my God, they're just GLORIOUS. I'm so excited to work on this with Arnold and I'm so excited to finally share this story.
As to when it's coming out, I can't say, but for now we're shooting for Komikon at the end of this year. But don't take my word for it.
That's the only project that I can talk about as of now. But there are a couple of others.
To help fund these projects, I will be selling a whole bunch of original artwork from Indestructible Hulk, AVX VS, Supercrooks, Avenging Spider-man etc., either through me directly or through my agent Kirk Dilbeck. He will have different pieces than me, but I guess it would be safe to say that the really kick ass pages will have to go through Kirk so that more money can be raised. I'll be posting what's available through me on this site first thing next week.